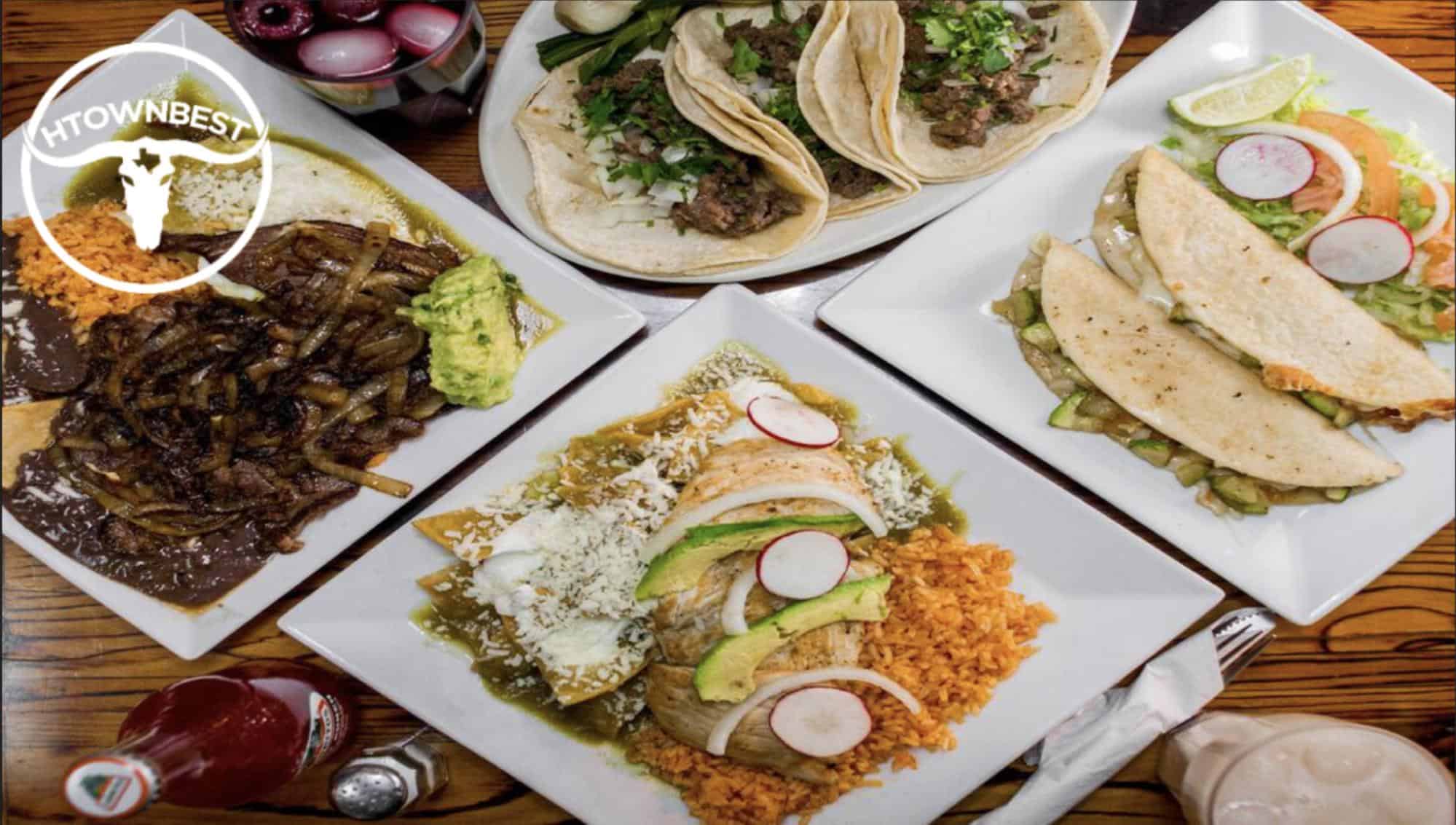 The Top 5 Mexican Restaurants in Houston
How We Picked:
1. Tacos Doña Lena
Website: Tacos Dona Lena
Address: 8788 Hammerly Blvd G, Houston, TX 77080, United States
Contact Info: +1 713-993-6486
Hours: Monday to Thursday: 11 AM to 9 PM
Friday: 11 AM to 10 PM
Saturday: 8 AM to 10 PM
Sunday: 8 AM to 9 PM
| | |
| --- | --- |
| Google Reviews Score | 4.7/5 |
| Yelp Reviews Score | 4.5/5 |
| Facebook Reviews Score | 4.7/5 |
| Total Reviews | 4.6/5 |
| Score Consistency | 4.6/5 |
| | |
| --- | --- |
| Authenticity | 5/5 |
| Ambiance | 4.7/5 |
| Ingredients | 5/5 |
| Sauces | 5/5 |
Wheelchair accessible
Six flavorful salsas
Juicy birria tacos 
Homemade horchata 
Limited seating
Long waits
No alcohol is served 
Tacos Dona Lena is known by many Houstonians for their six salsas and their excellent service. Some told us the tacos alone make a visit to Tacos Dona Lena worth the dining experience.
First of all, if you plan on going on the weekends, plan to arrive early as they don't accept reservations. Plus, parking is always a hassle due to the crowds.
Upon our arrival, we liked how it had wheelchair access because of the sizable ramp leading to the boardwalk that ran straight beside the storefronts.
Right away, everybody on the staff greeted us with warm smiles. Despite the lack of seating and the long wait to place an order, the staff were pleasant and answered any questions about the menu.
Although plenty of meat choices are available at Tacos Donna Lena, we tried their birria tacos and their birria quesadilla. After all, many in line before us were ordering the birria, so we assumed it was a popular choice.
From the moment we bit into our tacos, we understood why many were ordering these juicy, flavorful tacos. The quality of the birria tacos was such that they didn't need a lot of extra seasoning or salsa to make them palatable.
The birria tacos and quesadillas speak for themselves in terms of flavor and spiciness. We also liked how the birria was not as oily as it is at other restaurants.
Furthermore, as salsa enthusiasts, we liked their array of six different kinds of salsas, ranging in intensity from mild to extremely fiery. All of which were delicious, and
you may or may not be able to stomach, depending on your heat tolerance.
We also liked their Aguas Frescas, specifically the horchata, as it is made fresh every day from scratch and was delicious. However, if you want an alcoholic drink, you can buy alcohol from the nearby convenience shop and bring it inside Tacos Dona Luna because they don't sell alcohol.
2. Chivos
Website: Chivos
Address: 222 W 11th St, Houston, TX 77008, United States
Contact Info: +1 832-767-1417
Hours: Monday to Tuesday: Closed
Wednesday to Thursday: 5 PM to 9 PM
Friday to Saturday: 5 PM to 10 PM
Sunday: 11 AM to 3 PM
| | |
| --- | --- |
| Google Reviews Score | 4.3/5 |
| Yelp Reviews Score | 4/5 |
| Facebook Reviews Score | 3.8/5 |
| Total Reviews | 4/5 |
| Score Consistency | 4/5 |
| | |
| --- | --- |
| Authenticity | 4.7/5 |
| Ambiance | 4.7/5 |
| Ingredients | 4.7/5 |
| Sauces | 4.5/5 |
Savory pozole dumplings
Homemade flour tortillas
Flavorful pollo al carbon 
Authentic corn-based alcohol
No free parking
No vegetarian options
Chivos' vibrant environment welcomes guests to taste unique and authentic Mexican food—at least, that's what we've heard.
The first thing we noted was the lack of free parking at Chivos. They only have valet parking available.
Upon walking into Chivos, we were surrounded by a marble-countered open kitchen and a bar. They had warm wood, vivid green couches, and colorful plants that carried spring vibes.
As we passed by the rear of their kitchen, we went eye to eye with their cured ducks that were hanging and drying over the burner.
It was crowded when we went, so we recommend getting reservations. Regardless, we do not have to wait long to be seated at a table and handed our menus.
We liked how everyone we spoke with on the staff made suggestions to guarantee a true taste of Mexico. However, the menu lacked vegetarian options—if vegetables are your thing.
First, we ordered the pozole dumplings. The pozole dumplings were garnished with Napa cabbage, green onions, and radish, much like in traditional pozole.
The dish was held together by a shimmering, wafer-thin pool of pozole soup. Whereas the almond salsa matcha on the side added to the pozole dumplings.
Next, their simple yet appealing, handmade flour tortillas with truffle butter and salmon roe were a testament to their Mexican authenticity and creativity. The truffle butter easily spread across the warm tortilla is a breeze, and the addition of salmon roe left our tastebuds with a tinge of saltiness.
Additionally, their pollo al carbon with gluten-free soy glaze, onion, shishitos, and cherry tomatoes had us nibbling on the bones long after the chicken was gone. The small roasted tomatoes burst delightfully in our mouths, and the addition of shishitos was a great touch.
Lastly, we ordered the West Tejas drink, a unique corn-based alcoholic combination made with mezcal, tequila, cilantro, roasted corn, epazote, broiled lime, and salt, as well as Nixta Licor de Elote.
However, their choice of garnish was most peculiar about this drink—it was a dried cricket. Yes, the cricket was edible, but we didn't dare to try it.
3. La Fisheria
Website: La Fisheria
Address: 213 Milam St, Houston, TX 77002, United States
Contact Info: +1 713-802-1712
Hours: Monday to Wednesday: 11 AM to 9:30 PM
Thursday: 11 AM to 10 PM
Friday to Saturday: 11 AM to 11 PM
Sunday: 12 PM to 9 PM
| | |
| --- | --- |
| Google Reviews Score | 4.4/5 |
| Yelp Reviews Score | 4/5 |
| Facebook Reviews Score | 4.3/5 |
| Total Reviews | 4.4/5 |
| Score Consistency | 4.4/5 |
| | |
| --- | --- |
| Authenticity | 4.7/5 |
| Ambiance | 5/5 |
| Ingredients | 4.7/5 |
| Sauces | 5/5 |
Luxurious tuna tostada
Miracle "vuelve a la vida" soup
Sweet-and-sour tamarind margarita
Limited staff communication
Flavorless habanero margarita
Overwhelming caramel flan
Fish and seafood are like La Fisheria's bread and butter, and the restaurant's signature dishes are superb examples of traditional Mexican cuisine. At least, that's what we've been told.
When we walked into La Fisheria, the blue walls and decor were festive and elegant. The bright turquoise front doors, dark blue walls, and tiling in even more shades of blue and white create an atmosphere reminiscent of the ocean.
Additionally, their upside-down kettle-shaped copper fixtures added a sparkle to the bar.
Depending on when you go, the dining room can be partially empty or half full.
Yet, on the evening we went, a talented live band contributed to the restaurant's bustle, commotion, and general sense of vitality—all of which are essential to preserving an air of festivity in a traditional Mexican restaurant.
However, do note that if you don't speak Spanish, you may need to be patient, as most of the servers have trouble communicating in English.
Our server could communicate with us in English, but only to a limited extent. Despite this, we were able to put in our orders.
The first dish we indulged in was their tuna tostada. Slices of fresh tuna were on a deep-fried tortilla topped with ripe avocado chunks and crispy fried leek slivers.
While we're not usually fans of mayonnaise on our tostadas, their chipotle mayonnaise boosted the luxurious tostada with a hint of smoky heat.
We also tried their "vuelve a la vida" soup, which we heard from former customers that it's a hangover miracle soup. But it tasted like a party in our mouths.
The soup broth was tangy, spicy, and bold. They also didn't skim out on the large oyster chunks, shrimps, and red chilies.
We also liked their wide selection of margaritas. Although the habanero margarita we ordered lacked any discernible heat and tasted like tequila, the tamarindo margarita was sour and sweet.
The flan we had for dessert had an interesting appearance, as it was plated differently than the authentic Mexican flan. It was in a pie shape with whipped cream and had an overwhelming amount of caramel sauce—which took away from the true simple taste of authentic flan.
4. Cuchara
Website: Cuchara
Address: 214 Fairview St Suite #1, Houston, TX 77006, United States
Contact Info: +1 713-942-0000
Hours: Monday: Closed
Tuesday to Thursday: 11 AM to 10 PM
Friday to Saturday: 11 AM to
| | |
| --- | --- |
| Google Reviews Score | 4.2/5 |
| Yelp Reviews Score | 3.5/5 |
| Facebook Reviews Score | 3.9/5 |
| Total Reviews | 4/5 |
| Score Consistency | 4/5 |
| | |
| --- | --- |
| Authenticity | 4.8/5 |
| Ambiance | 4.7/5 |
| Ingredients | 4.7/5 |
| Sauces | 5/5 |
Superb service
Spicy ceviche
Sinfully delicious hibiscus margarita
Joyful atmosphere
Well-seasoned chicken flautas
Tasty mole enchiladas
Expensive valet parking
Dense tres leches
Many have raved to us about the superb service, atmosphere, and classic Mexican staples served at Cuchara. So if you're looking for Tex-Mex, you won't find it here.
What we found at Cuchara was authentic Mexican food that tasted as if it was straight from Mexico City. Not to mention, almost everything we tried was delicious.
First of all, valet parking and parking across the street are available, but it will cost you. Valet parking cost us an extra ten dollars, which seemed excessive.
But from the moment we walked into Cuchara, we were welcomed into a joyful atmosphere filled with live music and smiling staff. All of the staff were exceptionally kind and helpful.
Be prepared, though, to wait for a table if you go on the weekend like we did, as the restaurant was crowded. Regardless of this, we soaked in the pleasant ambiance of Cuchara as we waited.
We liked how the front hostess even provided us a menu to look at while we waited. Do note, though, that Cuchara doesn't have a vegetarian-friendly menu, so vegetarians may find themselves struggling to find something to eat.
We started off with an appetizer of their ceviche and gorditas too. The ceviche had a nice spicy kick to it and was not too sour from the lemons.
Moreover, while their gorditas were tasty, we thought the meat filling could have used a pinch more salt.
As for our main entrées, the chicken flautas with chicken came out first. We got three of them, and each one is stuffed with juicy, perfectly seasoned chicken.
We also ordered their chicken mole enchiladas, which were delicious. The cheese and the mole meshed together and created a burst of flavor in our mouths.
Furthermore, we also liked how their side of rice and beans was massive, as it served more than one person.
Additionally, we tried their hibiscus margarita. When done wrong, hibiscus drinks can turn bitter, but this hibiscus margarita was sinfully delicious and refreshing.
It had the right amount of sweetness, and the tequila was so smooth that it might creep up on you as it did with us.
However, we did not like the dessert we ordered. Their tres leches was a little too dense for us, but everything else at Cuchara was tasty.
5. Alma
Website: Alma
Address: 2203 N Shepherd Dr, Houston, TX 77008, United States
Contact Info: +1 713-861-5115
Hours: Monday: Closed
Tuesday to Thursday: 11 AM to 10 PM
Friday: 11 AM to 11 PM
Saturday 9 AM to 11 PM
Sunday: 9 AM to 10 PM
| | |
| --- | --- |
| Google Reviews Score | 4.3/5 |
| Yelp Reviews Score | 3.5/5 |
| Facebook Reviews Score | 4/5 |
| Total Reviews | 4/5 |
| Score Consistency | 4/5 |
| | |
| --- | --- |
| Authenticity | 4/5 |
| Ambiance | 4/5 |
| Ingredients | 4.5/5 |
| Sauces | 4/5 |
Latin American, South American, and Mexican cuisine  
Crispy ceviche de pescado 
Spicy ceviche sensei 
Smoky pulpo parrillero
No chips or salsa
No beans or rice
At Alma, the cuisine focuses on fresh seafood dishes, and most of their cuisine blends the flavors of Latin America, South America, and Mexico.
During our dining experience at Alma, we liked how there was a wide variety of raw and cooked foods to choose from, representing a wide spectrum of flavors and textures on the menu. Therefore, we tried a mixture of dishes from their menu.
We first tried their ceviche de pescado, a massive serving of cured grouper, Leche de Tigre, crispy Peruvian corn, onions, and a dollop of sweet potato mousse. It had a substantial flavor of crispy sweetness thanks to the sweet potato mousse and the corn.
Another raw food selection we tried off the menu was the ceviche sensei. It consisted of yellowfin tuna, scallops, octopus, Peruvian chiles, avocado, and shallots, all in a blood orange Leche de Tigre sauce.
We liked how it was garnished with ginger and dried, fermented, and smoked skipjack tuna. The garnish gave the ceviche sensei a subtle balance of flavors from the fish with just a dash of spiciness.
Of course, Alma also has a vast selection of cooked entrees. As octopus aficionados, we dug into their grilled pulpo parrillero—doused with smoky Peruvian chile sauce and served with buttery confit Yukon potatoes.
Moreover, we also had their cachapas de cochinito served on sweet potato corn pancakes and lobster. We liked the accompanying taste of the poached egg drizzled in an interesting combination of hollandaise and teriyaki sauce.
As for their Guadalajara plate we tried, the classic flavors of Mexican cuisine were captured. It was simply a stack of steak quesadillas and queso fundido.
The steak was well seasoned, and the cheese was authentic Mexican queso. Altogether, everything was delicious.
However, we didn't like how there were neither chips nor salsa included. Also, no beans or rice were included—it was just quesadillas.
FAQs about Mexican Restaurants