The Best of Houston: Dog Friendly Places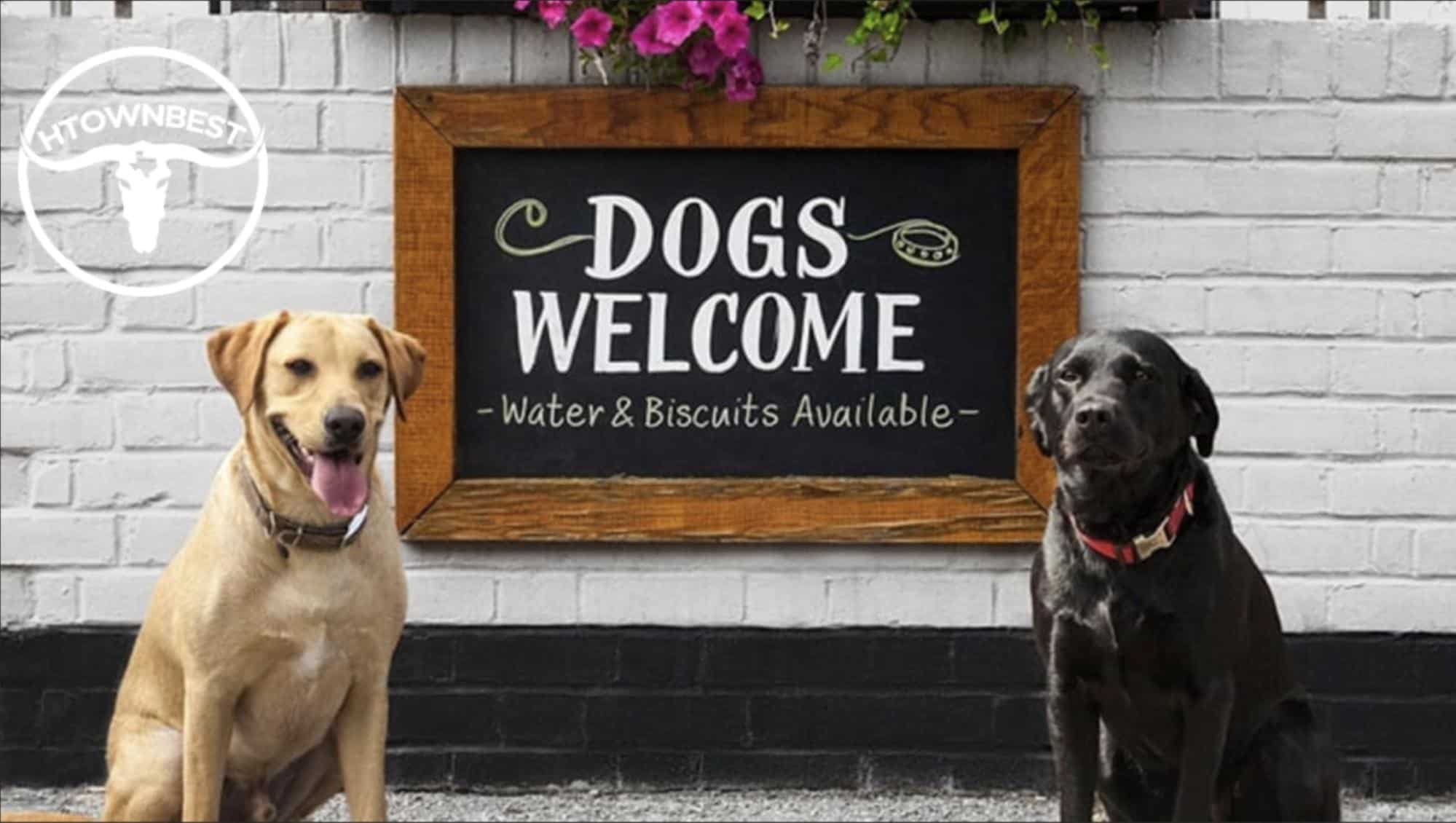 Let's get this out of the way first: is Houston actually dog-friendly?
Fortunately, Houston is very dog-friendly now, especially since the Paws on Patio ordinance. This ordinance allows people to bring their dogs with them to restaurants and similar establishments.
Now, of course, all that's left is to pick a nice spot to visit with your furry friend on your first foray out into the city as a pair! That's where our list comes in.
Although we haven't listed every single spot in Houston that accepts dogs, our list of dog-friendly places in Houston will give you some direction as to the best options. Read on to learn more!
Good Dog Hot Dog
Good Dog Hot Dog, like any other eatery with the words "good dog" in the title, serves food that dogs will love. Pet owners who want to enjoy a hot dog and a cold drink in the company of their real dog will appreciate the patio's dog-friendly policy.
More than a dozen varieties of hot dogs made in Texas are available for people, and dogs may get sausages for only $3. The Good Dog Hot Dog is a winner for all involved.
Better Luck Tomorrow
At Better Luck Tomorrow, your four-legged friend is welcome to join you for a drink at this bar and kitchen. However, you'll have to take your session outside to the patio, but don't worry, you can still sip on one of their signature cocktails, the Salty Cats.
Moreover, this casual neighborhood hangout is the brainchild of a number of well-known people in the mixology industry, so you can expect top-notch cocktails and inventive takes on standard bar fare.
Think schmaltz fried chicken and crunchy sweet-and-sour lamb belly, both of which your dog will want to try.
Kirby Ice House 
Kirby Ice House has three locations in the Houston region, and its outdoor patios are a popular hangout for dog owners to enjoy drinks, meet new people, and watch the game.
All of their locations feature expansive outdoor areas perfect for dogs to give their legs a stretch, plenty of picnic tables and tons of trees providing welcome shade from the Houston heat.
Truck Yard
Trash can punch, flat screens, food trucks serving cheesesteaks, and live music make this offbeat outdoor venue a perfect hangout for you and your four-legged companions.
You may also spend ten dollars on a drink and take a spin on the boozy ferris wheel, but be aware that you'll need someone to look after your beloved dog while you're gone.
Decant Urban Winery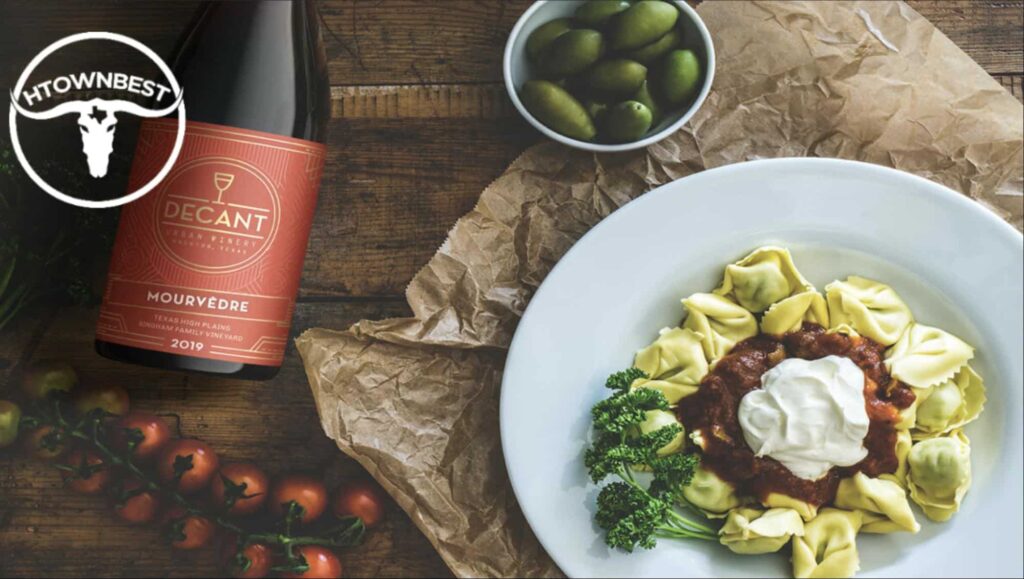 This winery is a small-batch operation run by a woman and her family who are passionate about both wine and dogs. Decant, opened in 2017 by dog parents Kristina and Ron Tucker, offers a wide selection of wines, such as a beloved Texas cab and a lovely Petite Sirah, all of which can be sipped on the restaurant's chill patio.
While your dog won't be sipping on any wine with you, Decant does provide bowls of water to keep your furry companion hydrated.
Saint Arnold Brewery
You and your dog are welcome to visit one of Houston's original breweries, which has been renovated to now welcome your dogs too in their outdoor beer garden. Indulge in barrel-aged beers, "fire emoji" wings, beef pizza, and Downtown vistas while hanging out with Furnando.
Cottonwood
Cottonwood is a great place to spend the day or evening because of its large open-air space, which features both covered and full-sun seating, regular movie nights, and live music.
After placing your order at the counter, you and your pup can take a seat at one of the sturdy picnic tables and dive into some crawdads or local beer. As an added bonus, if your closest friend starts to feel restless, you can always take them to a neighboring park by passing through the gate.
West Alabama Ice House
This classic Houston watering spot has been a local favorite for decades thanks to its proximity to delicious tacos, cold beer, and clean water bowls for canine patrons.
Depending on the time of year you go to West Alabama Ice House, the ambiance and atmosphere changes. During the summer, the icehouse gives away grilled hot dogs and has live music from various bands on the small outside stage.
On the other hand, in the colder months, plastic walls are erected, and space heaters are brought out.
Moreover, West Alabama Ice House has TVs, a basketball hoop, corn hole, and ping pong tables on its expansive terrace and offers only beer, wine, and cider.
If you don't drink alcohol, you can always try their non-alcoholic mocktails or keep it basic with items like water and soda keeping true to the ice house aesthetic.
Heights Bier Garten
The local biergarten welcomes four-legged friends and their human companions with open arms. Heights Bier Garten provides plenty of open and covered patio area along with plenty of seating, fire pits, pub fare (not to be mistaken with pup fare), and approximately one hundred beers, meads, and ciders on tap.
If you need any more convincing that this bar is full of puppy love, just bring man's best friend to HBG's weekday 3–6 p.m. happy hour.
The Burger Joint
This burger institution is a favorite among locals and visitors alike, and it even has a terrace that is completely dog-friendly. By the way, you can choose from either of their two locations.
No matter which location you choose, your friendly mutt can enjoy some organic dog snacks and puppy shakes at the dog water station while you chow down on a kimchi burger and local brew.
Eight Row Flint
The Eight Row Flint is the perfect place to go after a long walk or bike ride along Heights Boulevard or the hike-and-bike trail.
We recommend ordering their taco combo platter to enjoy on the terrace: the pork or brussels sprout options are safe bets. A variety of ground-level tables are available, so your dog can watch the action without disrupting your lunch.
However, don't end your night out at Eight Row Flint without a shot of the house tequila or bourbon.
8th Wonder Brewery
This brewery takes design cues from the Astrodome and offers a large outside space where dogs are welcome. Consume perennial favorites like Dome Faux'm Cream Ale and Haterade Gose, or explore seasonal selections like Bo$$ Beer made with pineapple wheat.
And speaking of pop-up events, this dog-friendly yard is where you'll discover a rotating collection of artworks and sculptures by local artists, as well as the Eatsie Boys food truck.
Patterson Park Patio Bar
Patterson Park Patio Bar has an immense terrace perfect for pet owners and their dogs for a chill evening out. You and your pet can choose from a variety of sitting options.
Such as, the indoor-outdoor bar's main deck, the top deck's views of Downtown, and the food truck amphitheater's stadium seating. Make sure to stop by the food truck of the day before or after you have a drink, and then locate a comfortable spot to relax.
By the way, seating near the perimeter railing or at the outside bar facing the beautiful woods that border White Oak Bayou trail is ideal for larger dogs.
Flora
Many Houstonians walk down the Buffalo Bayou with their precious furry friends, letting them run around with the other dogs at nearby Johnny Steele Dog Park. However, right after all their dog's energy is out, many pet owners treat themselves with breakfast tacos and mimosas at Flora.
NettBar
The lack of a kitchen at this local ice house north of Washington Avenue is more than made up for by the food trucks and live music that visit regularly.
NettBar provides a safe dog yard for fidgety canines to run about while their owners enjoy a drink at the bar.
There is lots of outdoor fun to be had at Nettbar, including darts, bocce, and cornhole, as well as picnic tables for guests to relax at.
Furthermore, the deck has beautiful scenery and a space along the railing where large dogs can be leashed while their owners have a drink.
Henderson Heights
A majority of Houston Astros fans gather at Henderson Heights, an outdoor pub with a large terrace, an attractive assortment of beers on tap, and an interesting cocktail menu with exciting combinations like its hot jalapeno margarita, and watch the game.
By the way, while you're out there relaxing on one of the four porch swings or chowing down on some burgers and bar cuisine, don't forget to treat your dog to some tasty snacks from the snack bar.
Barnaby's Cafe
Barnaby's, named after a large, shaggy sheepdog, has a dog-friendly patio and menu in the Heights. The dog menu includes chicken and rice, ground beef and garlic and peanut butter ice cream with a milk bone for dessert.
Finger items like the chicken tinga quesadilla with queso fresco and the bruschetta meatloaf sandwich are available for pet owners as well.
East End Backyard
One of Houston's most iconic bungalows, now features a complete bar and several terraces with beautiful white rock landscaping.
There are four separate seating options available, all of which are dog-friendly and may be used regardless of the weather. You can also eat at one of the food trucks that park there and watch the game on the giant outdoor TV.
Or, you can take your dog to the enclosed dog park where you can sit and relax with your friends while your dog socializes with other dogs.
The Patio at The Pit Room
The Patio at the Pit Room is a must-visit if you're looking for a dog-friendly restaurant in the Museum District that serves up smoked brisket, fall-off-the-bone ribs, pie, and crawfish every Thursday through Sunday.
On the bar's hardwood terrace, your furry friend can relax as you watch the game or chat with your human buddies. However, if you're in the process of socializing your dog, a larger table, such as a picnic table or a table that seats four, is preferable.
Monkey's Tail
Here at Monkey's Tail, a Mexican-American restaurant, you can enjoy some twists on American bar fare, with anything from bacon-wrapped sonoran dogs and mezcal or barbacoa tacos. Not to mention their spoof on the McDonald's happy meal, the Feliz Meals.
Whether you go on the weekend or during the week to Monkey's Tale, they seem to have a themed event every night. Such as Weekend Brunch, Monday Steak Night, and Taco Tuesday.
What is more, though, is that you can bring along your favorite companion: your furry best friend. However, you'll have to sit outside on the patio.
While they do not offer dog treats at Monkey's Tail, they do give out unlimited water refills for your dog's water bowl.
King's BierHaus
At King's Bierhaus, the staff members don on dirndls and lederhosen, and a loud party awaits those who drink all 2.5 liters of Das Boot—your dogs can join in on the party too.
While your dog won't be served a pint, they do get free water refills throughout the night. Furthermore, you and your furry friend will love the relaxing atmosphere at King's Bierhaus beer garden.
Outside there are hammock chairs, a stage for live music, an artificial pond with a tiny waterfall and even a footbridge.
Little Woodrow's
Little Woodrow's is a dog-friendly watering hole with a vast collection of beers, and turtle races.
Outside, Little Woodrow's has a swinging bench close to the fire pit and plenty of space for your dogs to run around. Plus, your furry friend even gets free water and treats—if you remember to ask, that is.
If you dare to participate in their turtle races, place bets on the turtle of their choice and wait for the action to play out. If your turtle wins twice out of the five rounds, you even get a free shot!
FM Kitchen & Bar
At FM Kitchen & Bar, you can indulge in perfectly prepared shack-style burgers, loaded tots, and over-the-top shakes at a dog-friendly outside table.
You may also order Texas-sized portions of dishes like CFS covered in black pepper bacon gravy or fried chicken drenched in buttermilk batter. No matter what your order, everything goes great with icy margaritas and local beer.
Axelrad Beer Garden
Axelrad Beer Garden has bar games, picnic tables, food trucks, occasional live music, pop-up events ranging from markets to movie nights, and even watering stations for your dog. A night out here will be fun for both you and your dog.
Christian's Tailgate Bar & Grill
Interested in going out to a pub to watch your favorite games, but don't want to leave your dog at home? Here's some good news: you and your tail-wagging pal are welcome to join the crowd at Christian's Tailgate for a juicy burger and a spot on the patio to watch the game.
Lucille's
Shrimp and grits and fried green tomatoes are just two examples of the homey, traditional dishes served at Lucille's, which exemplifies Southern hospitality.
Lucille's has a pet-friendly outdoor terrace where dogs and their owners may enjoy a meal together and even live music on occasion. If you're not ready to end your day out, you can take Fido for a stroll in the nearby McGovern Centennial Gardens once you've finished eating.
Karbach Brewing Co.
This Houston establishment is well-known for welcoming dog groups. If you and your dog are in the mood for some refreshing beverages, tasty snacks, and pleasant weather, head on over to the beer garden.
Take your dog to the park and play corn hole or relax at a picnic table with your furry friend by your side. Also, try some of their seasonal and year-round brews while you're there.
By the way, don't forget to get some of the standard bar fare like chicken wings, burgers, pretzels, and pizza.
Little Matt's
The owners of Little Matt's clearly have a soft spot in their hearts for canines. A doggie bar and a large container of dog treats greet dog owners and their furry friends outside.
As far as the menu goes, salads and Tex-Mex staples like chicken enchiladas can be found side by side on the human menu. Also, several customers at this Houston restaurant have claimed that their dogs were given beef patties of their own.
Little Matt's is a fun place for you and your dog to hang out thanks to the on-site candy store and arcade.
Hopdoddy Burger Bar
At Hopdoddy Burger Bar, you and your pet can pick from more than a dozen patio seats at any of its many sites. Dogs will be provided ice water while their human counterparts study the wide menu.
You can choose from any of their fourteen burgers and eight sorts of french fries. Don't forget, though, to pick up some dog treats from the dish just inside the entrance.
Hobbit Cafe
Since 1972, this dog-friendly Houston restaurant has been channeling the hospitality of hobbits by welcoming four-legged patrons onto its sprawling wooden deck, shaded by a mighty oak tree.
The atmosphere is relaxed, joyful, and a little mystical, and the menu offers a wide selection of appetizers, soups, salads, burgers, and sandwiches.
Moreover, fans of J.R.R. Tolkien are sure to like this Lord of the Rings-themed restaurant and bar. Yet, if you still need convincing, consider that celebrities like Lynyrd Skynyrd, Neil Young, and Woody Harrelson have all stopped at the Hobbit Cafe.
Lazy Dog Restaurant & Bar
Lazy Dog Restaurant & Bar is another canine-friendly Houston establishment. Grilled chicken breast or hamburger patties, both with brown rice and vegetables, are available for dogs dining al fresco.
The vast menu provides people with a wide variety of appetizers, small plates, soups, salads, sandwiches, and more to select from. On cold evenings, you and your dog may stay warm by snuggling up in front of the gas fire pit.
MOD Pizza
Including a pizza place on a list of dog-friendly Houston eateries seems like a no-brainer. The addition of a pizzeria where you may create your own pie is the icing on the cake.
MOD Pizza is a chain that specializes in handmade individual pizzas and gives customers a choice of more than 30 toppings to put on their creations.
There are seven outside tables available for customers with pets and their human carers at the San Felipe street location. Just make sure to have a way to corral your dog indoors while you place your order.
Bohemeo's
Bos, as the regulars call the eccentric cafe Bohemeo's, can be found in the old Eastwood section of Houston.
Here you can eat some of their world-famous unique twists on comfort foods such as potato soup, paninis, burritos and more. You can sit on the covered patio, listening to the live music and enjoy your meal as your dog snoozes on the grass.
However, keep an eye out for Sadie, the "Queen of Bohemeo's," the resident cat, as your dog may want to chase her.
Onion Creek Cafe
Onion Creek Cafe can be found in the Heights, on the always-bustling White Oak Dr. There's enough for the whole family, including your dog on the restaurant's spacious covered patio.
A water bowl for the dog and a glass of Frosé for you can help you both stay hydrated during happy hour. Wednesday is steak night, and Thursday is burger night, just two of the weekly specialties available during the bar's three-to-seven p.m. happy hour.
By the way, on the weekend, the DJ spins the latest hits and jams at Onion Creek Cafe's brunch, which lasts until 2 p.m.
Platypus Brewing 
Located in the heart of Lower Heights, Platypus Brewing is known for its handcrafted cocktails and Australian-inspired comfort food. You can enjoy happy hour on their covered patio with your four-legged furry friend any day of the week between 3 and 6 p.m.
By the way, if your dog is friendly, Platypus Brew has a four-legged buddy of their own named Brew Dog Roxy who may greet you if you ask for her. Additionally, water bowls can be found on the deck, close to the water cooler.
FAQs about Dog-friendly Places in Houston