The 5 Absolute Best Places for a Facial in Houston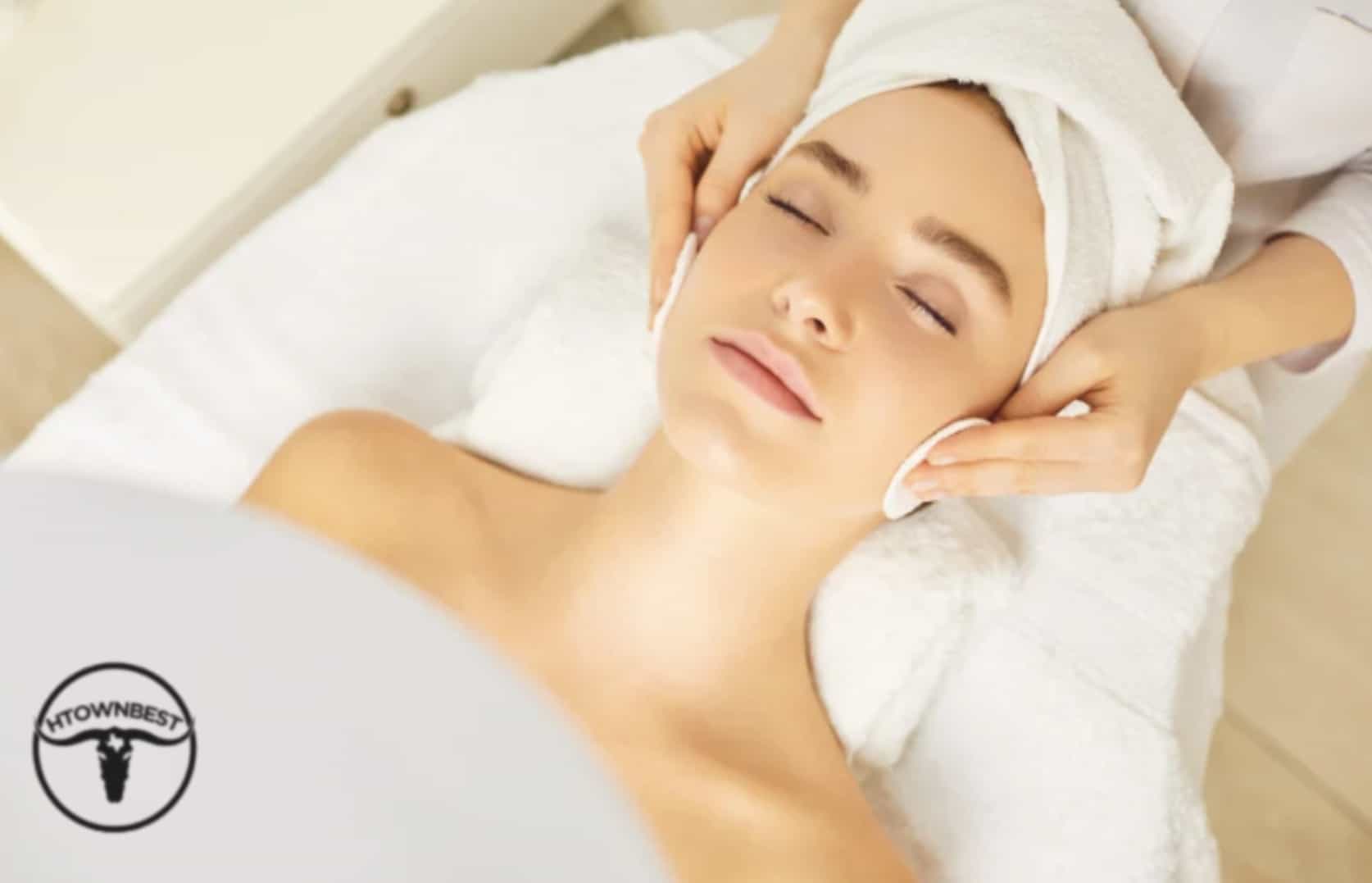 Our Criteria 
1. Sanctuary Spa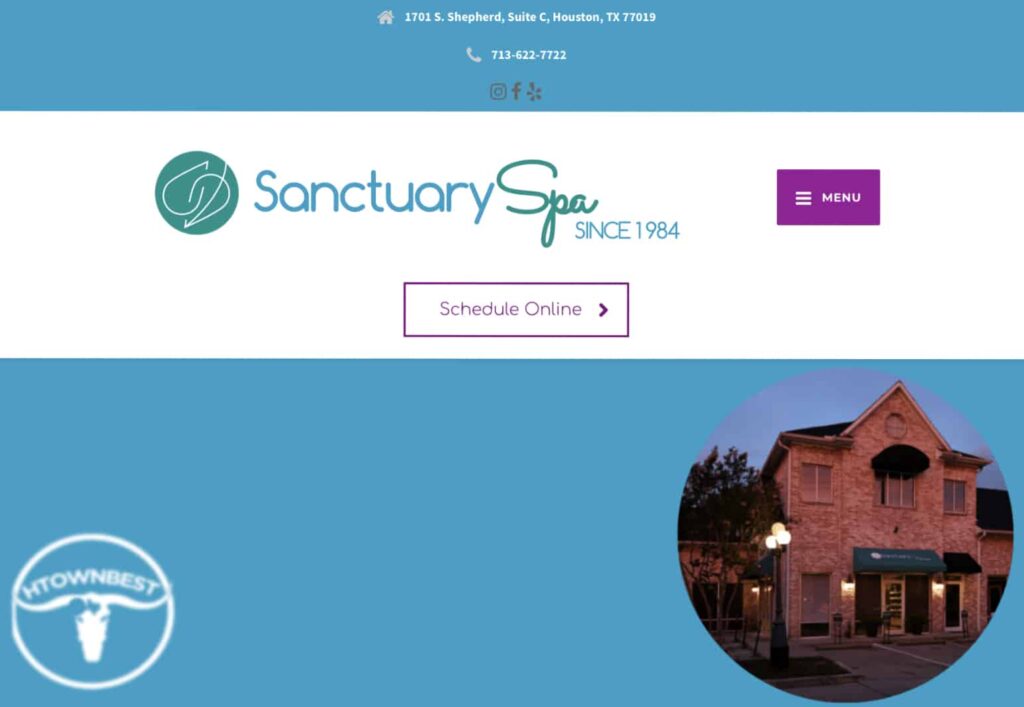 Services: Facials & Skin Care, Massage and Bodywork, Hydrotherapy, Wraps, and Scrubs, Waxing & Hair Removal Services & Yoni Steam
Website:https://www.besanctuary.com
Address: 1701 S Shepherd Dr suite c, Houston, TX 77019, United States
Contact Details: +1 713-622-7722
Operating Hours: Monday to Friday: 9:00 AM to 8:00 PM
Saturday: 9:00 AM to 7:00 PM
Sunday: 11:00 AM to 5:00 PM
| | |
| --- | --- |
| Google Reviews Score | 4.8/5 |
| Yelp Reviews Score | 4.5/5 |
| Facebook Reviews Score | 4.8/5 |
| Total Reviews | 4.6/5 |
| Score Consistency | 4.7/5 |
| | |
| --- | --- |
| Offerings | 4.7/5 |
| Professionalism | 4.8/5 |
| Hygiene | 4.8/5 |
| Communication | 4.8/5 |
No sales pressure 
Personalized facial experience
Peaceful atmosphere
Hectic appointment booking
Almost everyone we spoke with raved about how amazing the facials are at Sanctuary Spa from start to finish. To put this comment to the test, we booked a facial consultation.
When we called to book an appointment, the one thing we did not like was how the receptionist made it difficult for us to book an appointment by not providing the exact times the facial specialists were available.
Despite the hectic time it took to get an appointment, our experience at Sanctuary Spa was otherwise pleasant.
Upon stepping into Sanctuary Spa, we were greeted warmly with tea and invited to relax on their massage chairs. The overall atmosphere of the sanctuary spa was peaceful and stress-relieving.
Besides this, everyone we spoke to on the staff was helpful, accommodating, and friendly. We appreciated how, before the facial began, Kim, our facial specialist, discussed with us our concerns, skincare history, and goals for our skin.
She did not hesitate to explain to us what is involved with the different types of facials that would benefit our skin and helped us personalize our facials according to our skin's needs.
It was clear how knowledgeable Kim was about the products she used on her clients and us. Her passion demonstrated that she cares about helping her clients have a successful journey in getting beautiful skin.
Not once did we ever feel pressured or stressed out during the entire facial experience. Moreover, we also liked how she did not push us to make extra skin care purchases.
Our skin felt refreshed just seconds after we finished our facials.
2. Bare Necessities Spa & Boutique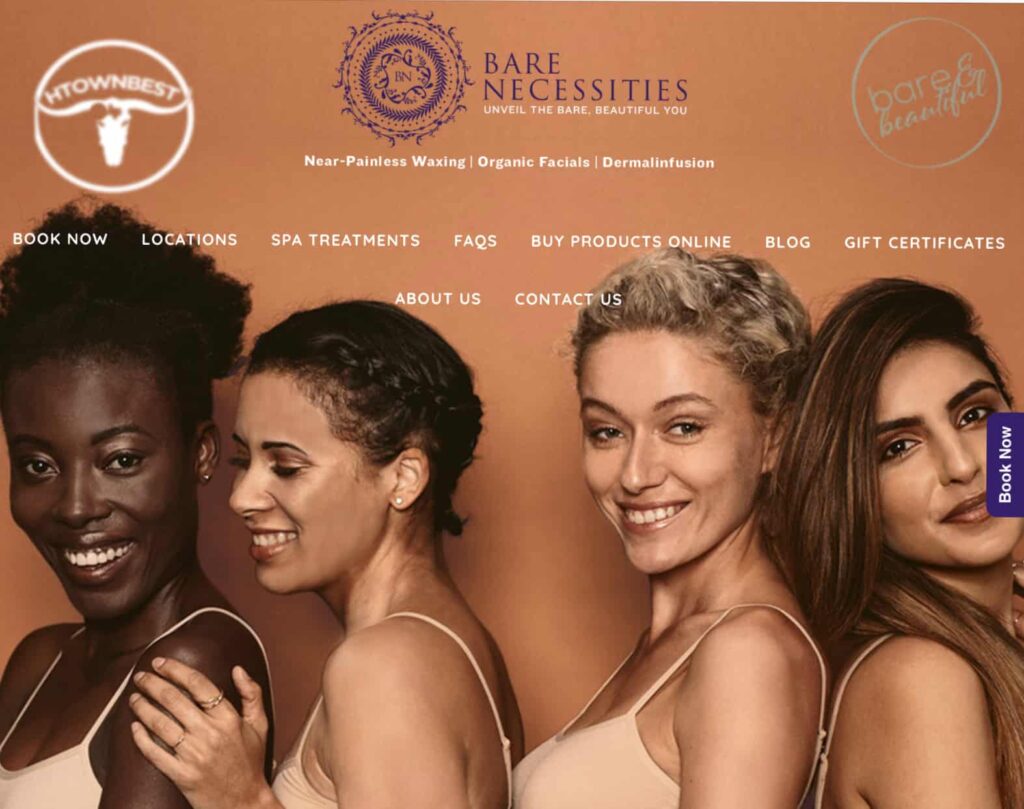 Services: Waxing, Facials, Massage, Organic Spray Tanning, Memberships, Spa Packages & Specials, Spa Parties, Spa Products
Website:https://bnwax.com
Address: 1643 Richmond Ave., Houston, TX 77006, United States
Contact Details: +1 713-522-6929
Operating Hours: Monday to Friday: 9:00 AM to 9:00 PM
Saturday to Sunday 10:00 AM to 6:00 PM
| | |
| --- | --- |
| Google Reviews Score | 4.8/5 |
| Yelp Reviews Score | 5/5 |
| Facebook Reviews Score | 4.7/5 |
| Total Reviews | 4.8/5 |
| Score Consistency | 4.8/5 |
| | |
| --- | --- |
| Offerings | 4.8/5 |
| Professionalism | 4.7/5 |
| Hygiene | 4.8/5 |
| Communication | 4.7/5 |
No sales pressure
Personalized facials are available
No children allowed
Lack of extraction process
The people we talked to who got a facial done at Bare Necessities spa and boutique commented to us on the reasonable prices and the professionalism of the facial aestheticians. Furthermore, many claimed their skin never looked better afterward.
In order to check the validity of these claims, our tester booked a facial appointment—the entire booking process was easy and carefree.
Our tester noted, though, that children are not allowed to accompany their parents during their facial appointments. So parents, book a babysitter before your next facial appointment.
During the facial, our tester appreciated how her aesthetician didn't spend most of the session recommending products, nor did she sugarcoat the facial process.
The aesthetician that worked with our tester did pitch their monthly membership fee, but she was not pushy about it. (Yes, the membership is completely optional.)
While the aesthetician did tailor the facial to our tester's needs, our tester did not like that the lady giving her a facial did not spend enough time on the extraction part of the facial. She completely ignored our tester's blackhead (on her forehead).
Regardless of this, when our tester called back the next day, Bare Necessities Spa did offer to provide another appointment with a different aesthetician to fix our tester's skin. That's a nice point of accommodation, at least.
3. My Spa Joy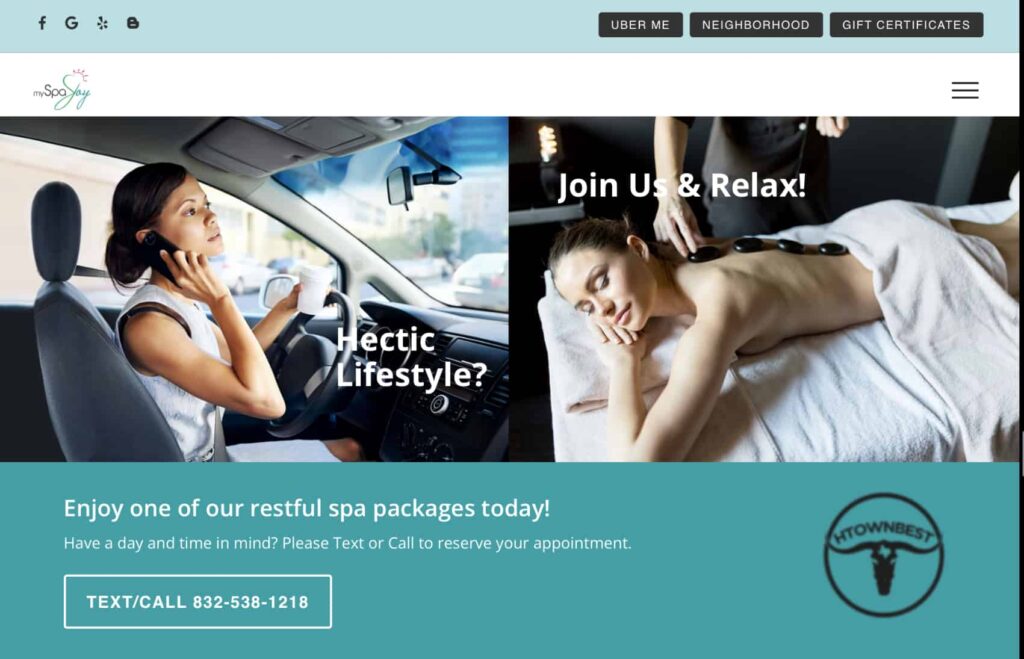 Services: Massage, HydraFacial, Peels/Facial, Spa Packages, Spa Parties, Deep Relaxation Therapy, Body Scrub
Website:https://www.myspajoy.com/
Address:1007 Heights Blvd, Houston, TX 77008, United States
Contact Details: +1 832-538-1218
Operating Hours: Monday to Saturday: 10:00 AM to 9:00 PM
Sunday: 10:00 AM to 6:00 PM
| | |
| --- | --- |
| Google Reviews Score | 4.9/5 |
| Yelp Reviews Score | 5/5 |
| Facebook Reviews Score | 4.9/5 |
| Total Reviews | 4.9/5 |
| Score Consistency | 4.9/5 |
| | |
| --- | --- |
| Offerings | 5/5 |
| Professionalism | 5/5 |
| Hygiene | 5/5 |
| Communication | 4.9/5 |
Peaceful environment
Historical home location
Professional & passionate aestheticians 
Personalized facials
Difficulties with appointment-booking 
My Spa Joy is known amongst their customers for their peaceful environment and relaxing atmosphere. Additionally, others commented to us on the excellent customer service as well as the gorgeous location.
Since My Spa Joy is located in a historical Houston home, it provides an authentic facial experience for all their customers.
In the beginning, there were a few issues with scheduling an appointment, but in the end, the appointment got sorted out in time.
When we ourselves walked up to the historic home, it was hard for us to believe that this was where the spa was located—amongst gorgeous trees and a quaint little neighborhood.
The same cozy, homey feeling greets you when you walk inside. Immediately, the receptionist offered us a drink at the front desk and led us to meet our aesthetician.
Our aesthetician, Alexis, demonstrated her concern for our skin care needs as she walked us through the consultation, answering all of our questions.
She even gave us tips for how we can use our skin care products to better improve the quality of our skin. We appreciated the personalized nature of her tips most.
Moreover, when she gave us our facials, she was tentative and professional, knowing exactly what she was doing. We enjoyed the personalized facials, which left our skin feeling brand new and thoroughly clean.
4. Sousan Med Spa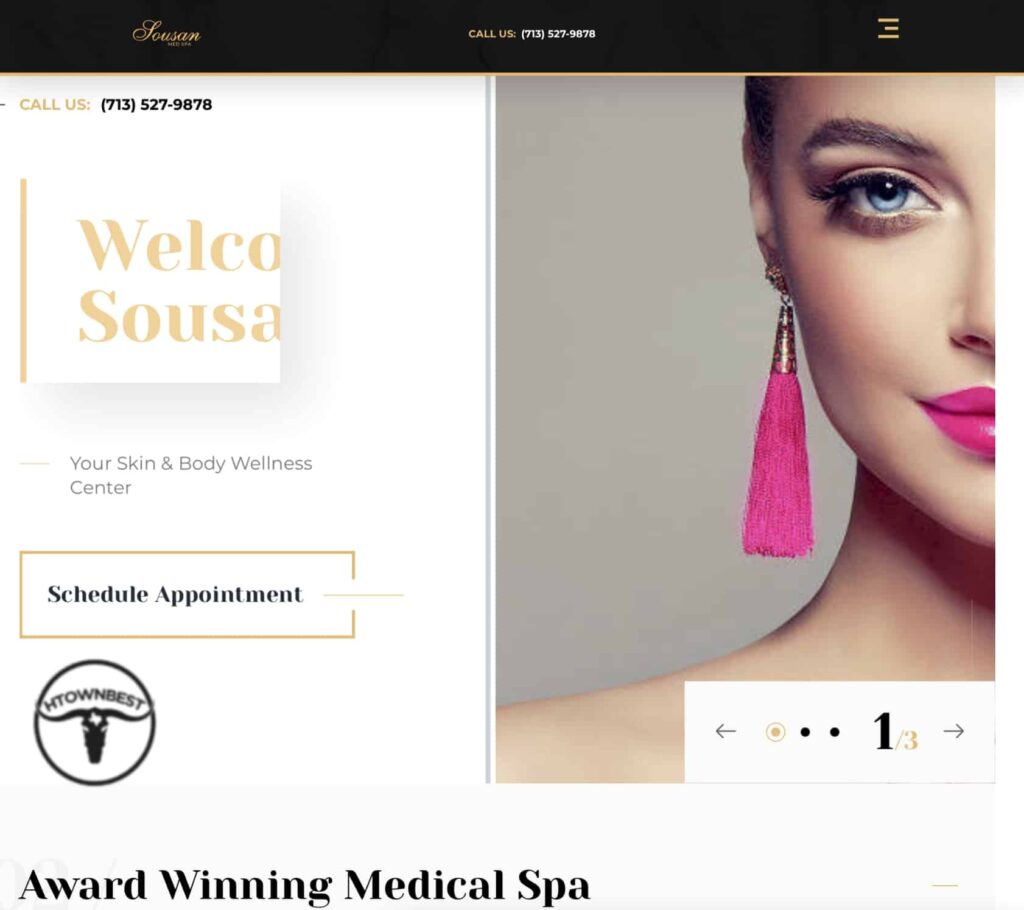 Services: Facials, Anti-Aging Treatments, Body Contouring & Cellulite Reduction, Laser Treatments
Website:https://sousanmedspahouston.net/
Address: 4550 Post Oak Pl Dr, Houston, TX 77027, United States
Contact Details: +1 713-527-9878
Operating Hours: Tuesday to Friday: 9:00 AM to 7:00 PM
Saturday: 9:00 AM to 4:00 PM
| | |
| --- | --- |
| Google Reviews Score | 4.8/5 |
| Yelp Reviews Score | 4.5/5 |
| Facebook Reviews Score | 5/5 |
| Total Reviews | 4.9/5 |
| Score Consistency | 4.9/5 |
| | |
| --- | --- |
| Offerings | 4.8/5 |
| Professionalism | 4.8/5 |
| Hygiene | 4.9/5 |
| Communication | 4.7/5 |
Knowledgeable & friendly staff
Variety of treatments
Replenishing facials
Lack of organization
Overcharge for extra treatments
Various people bragged to us about the friendly staff as well as the hydrating facial treatments carried out at Sousan Med Spa.
From our tester's experience, the entire atmosphere of Sousan Med Spa was welcoming and professional.
However, our tester felt that Sousan Med Spa lacked organization due to the number of customers being sent in for late appointments.
Regardless, our tester didn't have a problem making her appointment on time.
While Sousan herself demonstrates her passion for health and beauty through the way she carries out different facial treatments, all of the staff that our tester spoke with proved themselves knowledgeable.
They thoroughly explained each facial treatment on their list that was the best fit for our tester. Yes, they offer a variety of treatments according to different skin types.
Moreover, all the equipment they used is up-to-date with the latest technology.
Additionally, our tester felt the woman at the front desk was trying to upsell her and overcharge her in order to purchase a package instead of individual treatment.
Furthermore, they make you pay in cash for unnecessary extra facial packages/treatments.
Despite these things, our tester walked out of Sousan Med Spa with reduced fine lines, redness, and acne spots. The facial treatment at Sousan Med Spa replenished her face with the needed hydration.
5. Alira Med-Spa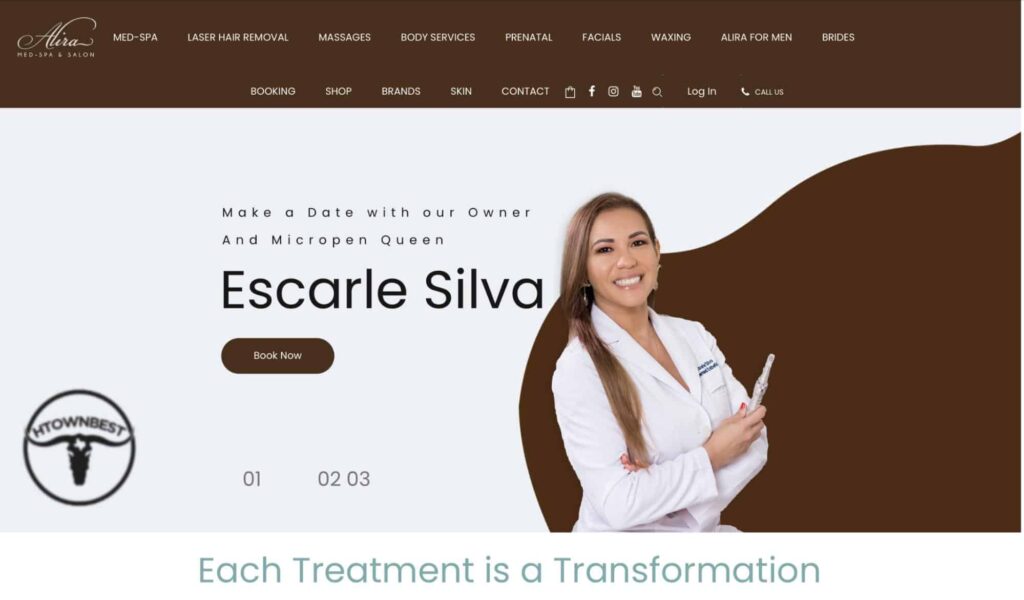 Services: Laser Hair Removal, Massages, Body Treatments, Prenatal, Facials, Waxing, Alira For Men, & Brides
Website:https://aliramedspa.com/
Address: 1619 W Alabama St, Houston, TX 77006, United States
Contact Details: +1 713-523-6000
Operating Hours: Tuesday 9:00 AM to 6:00 PM
Wednesday: 10:00 AM to 8:00 PM
Thursday to Saturday: 9:00 AM to 6:00 PM
| | |
| --- | --- |
| Google Reviews Score | 4.9/5 |
| Yelp Reviews Score | 4/5 |
| Facebook Reviews Score | 4.8/5 |
| Total Reviews | 4.7/5 |
| Score Consistency | 4.8/5 |
| | |
| --- | --- |
| Offerings | 5/5 |
| Professionalism | 5/5 |
| Hygiene | 5/5 |
| Communication | 5/5 |
Relaxing atmosphere
Knowledgeable aestheticians 
Alira Med Spa has a reputation amongst its clients for being known as the place to go after work for a relaxing facial treatment. At least, that's what we heard from the customers we talked to.
Some even claimed that although the prices are high at Alira Med Spa, you'll be paying for an experience, not just a treatment. Of course, we tested the validity of these statements during our own appointment with Alira Med Spa.
From the moment we walked inside to when we left, the staff was professional and organized. Also, the stress-free environment contributed to creating a relaxing experience for us.
We liked how the staff greeted us as soon as we walked through the door, and they did not waste time in beginning our appointment.
Escarle, our facial care specialist, portrayed her expertise by going above and beyond to ensure our skin was in great shape before we left.
We appreciated her care to detail as she gave us different skin care product samples as well as recommendations to combat dry skin.
After our facial, we left the spa feeling rejuvenated and uplifted. By the way, they do offer monthly packages and memberships for more than one facial treatment.
FAQ'S