Top 5 Psychiatrists in Houston
Our Criteria:
1. Aura MD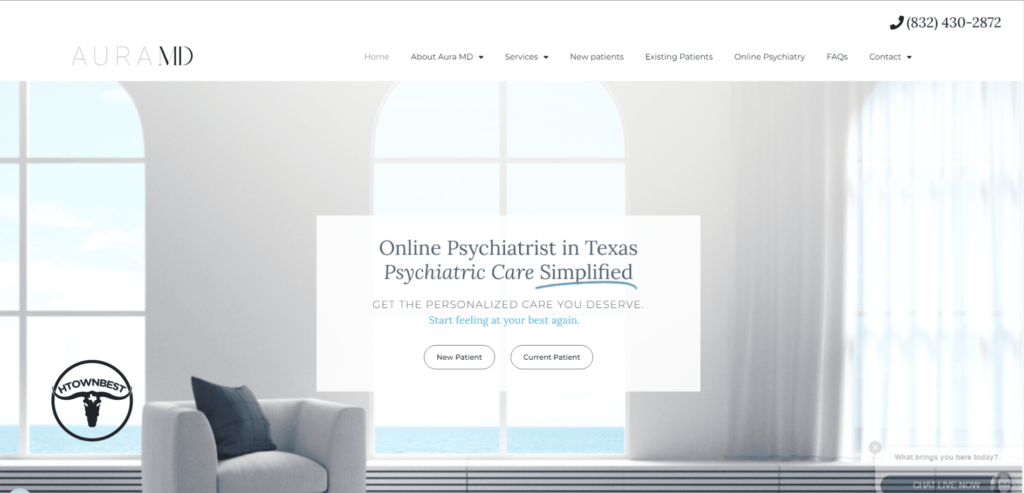 Services: Services Adult ADHD Treatment Anxiety Depression Treatment Bipolar Disorder Treatment Insomnia Wellness & Weight Women's Health Issues DNA Genetic Testing Telepsychiatry
Website: https://auramd.com/ 
Address: 952 Echo Ln Suite 210, Houston, TX 77024
Contact Details: (832) 430-2872
Operating Hours: Monday – Thursday: 7:30 A.M. – 5:30 P.M.; Friday:
8:00 A.M. – 5:00 P.M; Saturday to Sunday: Closed
| | |
| --- | --- |
| Google Reviews Score | 4.8/5 |
| Yelp Reviews Score | 4.5/5 |
| Facebook Reviews Score | 4.8/5 |
| Total Reviews | 5/5 |
| Score Consistency | 5/5 |
| | |
| --- | --- |
| Availability | 4.5/5 |
| Communication | 5/5 |
| Empathy | 5/5 |
| Specialization | 5/5 |
Specializes in caring for adult ADHD patients
Provides Women's Health Issues services 
Has an online portal for counseling and medication refill requests
Requires a deposit before processing appointment
Takes a long time before a client receives an appointment date
Aura MD specializes in providing care for adults suffering from Attention Deficit Hyperactivity Disorder (ADHD).
We commend how their clinic uses a combination of Cognitive Behavioral Therapy, medication, and counseling to mitigate the effects of ADHD.
For adults, it's important to find a trained clinic to diagnose ADHD because its symptoms are harder to detect. Some symptoms like hyperactivity may lessen, while others like difficulty paying attention, impulsiveness, and restlessness may remain.
Aside from ADHD, the clinic also provides mental health care for Women's Health Issues.
It's wonderful how their lead psychiatrist Dr. Ashley Toutounchi will take note of the patient's life circumstances when developing treatment programs. She will give extra attention to cases of anxiety and depression.
One should know that women are more likely to experience anxiety and depression than men. One must ensure that their psychiatrist knows and understands the struggles of women patients, taking note of their experience when treating them.
Although, clients must know that the company requires a deposit before they process appointments. While this deposit is deductible in the bill, this practice may not be beneficial for those on a tight budget or those who rely on insurance for psychiatric care.
Some also had difficulty getting appointment dates, with others receiving theirs after a month.
Still, Aura MD ensures that their clients can contact them at any time for counseling and medication refills through their patients' online portal. For us, it's a convenient way for existing patients to request their services without hassle.
2. Greater Heights Holistic Psychiatry
Services: Medication Management, Lifestyle Counseling, Dietary Education, Psychotherapy, Pharmacogenetic Testing, Transcranial Magnetic Stimulation, Specific Chemical Test, Nutritional Supplements, Initial Psychiatric Diagnosis Evaluation,
Website: https://www.psychiatryhoustontx.com/ 
Address: 1919 N Loop W Suite#280, Houston, TX 77008
Contact Details: (832) 930-1202
Operating Hours: Monday – Friday: 8:00 A.M. – 5:00 P.M.; Saturday to Sunday: Closed
| | |
| --- | --- |
| Google Reviews Score | 4.9/5 |
| Facebook Reviews Score | 5/5 |
| Total Reviews | 5/5 |
| Score Consistency | 5/5 |
| | |
| --- | --- |
| Availability | 5/5 |
| Communication | 4.5/5 |
| Empathy | 5/5 |
| Specialization | 5/5 |
Focuses on supplementary lifestyle-related services
Short waiting time for appointments
Psychiatrists take their time to provide thorough counseling
Short allowances for late appointments
Need to pay $100 for rescheduling of sessions
What we love about Greater Heights Holistic Psychiatry is its focus on lifestyle-related services such as Lifestyle Counseling and Dietary Education.
Together with psychiatric medication, the company will provide counseling to patients to help them formulate proper exercise and sleep habits. Their partner lifestyle coaches will also formulate customized plans to help mitigate certain habits of some patients.
We pointed this out because certain actions like lack of sleep and exercise can worsen the mental health state of certain individuals. If these habits continue, the recovery time of patients may prolong even if they're taking medication.
In relation, it's also wonderful that the clinic's Dietary Education sessions have cooking sessions and nutrition seminars to help people with diets. We love how these demos can double as relaxation activities that patients can use to boost their mental health.
Although Greater Heights Holistic Psychiatry excels with its supplemental services, its clinic has a short time allowance for late appointments. So, if you're late for more than 10 minutes, they'll move your session to the next day.
We also don't like how the clinic charges $100 for rescheduling, which we think is too expensive.
However, the company's late policy is necessary because the clinic has little to no waiting time for appointments. Also, the psychiatrists won't proceed with late appointments because they take their time with the counseling sessions.
3. Cornerstone Psychiatry and Counseling
Services: Anxiety, Bipolar Disorder, Depression, Biblical Counseling
Website: https://cornerstonepsychiatrycounseling.com/ 
Address: 3104 Edloe St Ste 200, Houston, TX 77027
Contact Details: (281) 241-9542
Operating Hours: Monday; Friday: 8:00 A.M. – 4:00 P.M.; Wednesday: 10:00 A.M. – 4:00 P.M.; Tuesday, Thursday, Saturday, Sunday: Closed
| | |
| --- | --- |
| Google Reviews Score | 5/5 |
| Zocdoc Reviews Score | 4.9/5 |
| Total Reviews | 5/5 |
| Score Consistency | 5/5 |
| | |
| --- | --- |
| Availability | 4/5 |
| Communication | 5/5 |
| Empathy | 5/5 |
| Specialization | 5/5 |
Integrates Christian teachings to psychotherapy sessions
Is sensitive with the patients' religious backgrounds when giving therapy
Offers virtual consultations outside office hours
Regularly check on patients' treatment programs
Only available 3 times a week
Has fewer practice areas than other clinics
Cornerstone Psychiatry and Counseling specializes in integrating psychiatric medication with Biblical Counseling.
During counseling, we like how Dr. John Hsieh will suggest actions related to the mitigation of the symptoms. After that, if the patient consents, Dr. Hsieh will also give out religious advice and prayer sessions to help them deal with their issues.
It's wonderful that the clinic also integrates faith into psychological counseling because it helps people, especially those with the Christian faith, process the psychotherapy sessions easier by relating it to ideas and lessons found in the Bible.
More importantly, we think these methods are also effective in teaching some people healthy coping mechanisms like prayer and reflection, which the person can use whenever they are having troubles with their mental and emotional state.
For those who don't follow the Christian faith, Dr. Hsieh is happy to focus more on the usual psychotherapy, taking note of the patient's background and sensibilities before giving out advice.
While it's great that Cornerstone Psychiatry and Counseling combines faith counseling with psychotherapy, the clinic has shorter office hours than others, with it only being available for sessions 3 times a week.
The clinic also has fewer practice areas. Thus if you need help with uncommon psychological problems, you may need to look for another care provider.
Still, the company provides virtual consultations to patients, especially for urgent matters outside the office hours of the doctor.
The doctor also regularly contacts his patients to check on their treatment program. We think it's a great gesture that will assure patients that their psychiatrist genuinely cares for them.
4. Wholehealth PLLC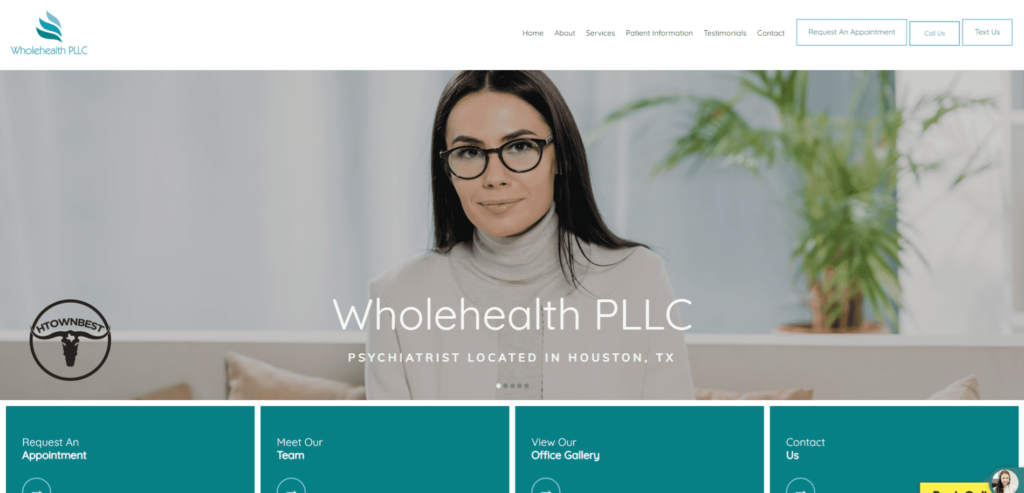 Services: Mental Health Services, Telepsychiatry, Individual Therapy, Transcranial Magnetic Stimulation, ADHD Treatment, Medication Management
Website: https://houston-psychiatrist.com/ 
Address: 6100 Corporate Dr Suite 3A, Houston, TX 77036
Contact Details: (832) 365-4165
Operating Hours: Monday – Saturday: 8:00 A.M. – 5:00 P.M.; Sunday: Closed
| | |
| --- | --- |
| Google Reviews Score | 4.6/5 |
| Total Reviews | 4/5 |
| Score Consistency | 4.5/5 |
| | |
| --- | --- |
| Availability | 4/5 |
| Communication | 5/5 |
| Empathy | 5/5 |
| Specialization | 5/5 |
Focuses on providing Transcranial Magnetic Stimulation Therapy 
Initial consultation includes many assessments 
Can send out prescription any time in case a patient runs out of medicine
Sluggish when giving out prescription medicine
Initial consultation costs $700 more than average
What makes Wholehealth PLLC stand out from others is its excellent Transcranial Magnetic Stimulation (TMS) Therapy.
The company's process starts with the psychiatrists setting up insulated coils in the client's scalp. Then, these coils will generate magnetic pulses to influence brain activity, targeting the subcortical limbic brain regions that are responsible for mood control.
We especially commend this service because it's a noninvasive treatment for clinical depression in case drugs don't work or harmful side effects appear. We also like how painless this procedure is unlike other treatments using electrical activity for treatment.
Still, patients must know that the TMS procedure may have some side effects like mild headaches, lightheadedness, sleepiness, and others. These side effects, however, are only mild and will only last for a while before fading.
Also, we don't like how Wholehealth PLLC is a bit sluggish when refilling prescription meds for patients, for this practice is inconvenient as it forces clients to seek out other drugstores for their medicine.
The company's initial appointment rate is also more expensive than others costing at least $700 above the average consultation rates.
Although, we think that the cost is acceptable, as it includes multiple assessments and tests used to diagnose a wide array of mental health problems. We think it's useful as it may detect mental illnesses that a patient may not be aware of.
In cases when the company's pharmacy has no stock of a specific drug, they'll quickly write a new prescription any time of the day so that their clients can buy the drugs as soon as possible.
5. Texas Psychiatry Group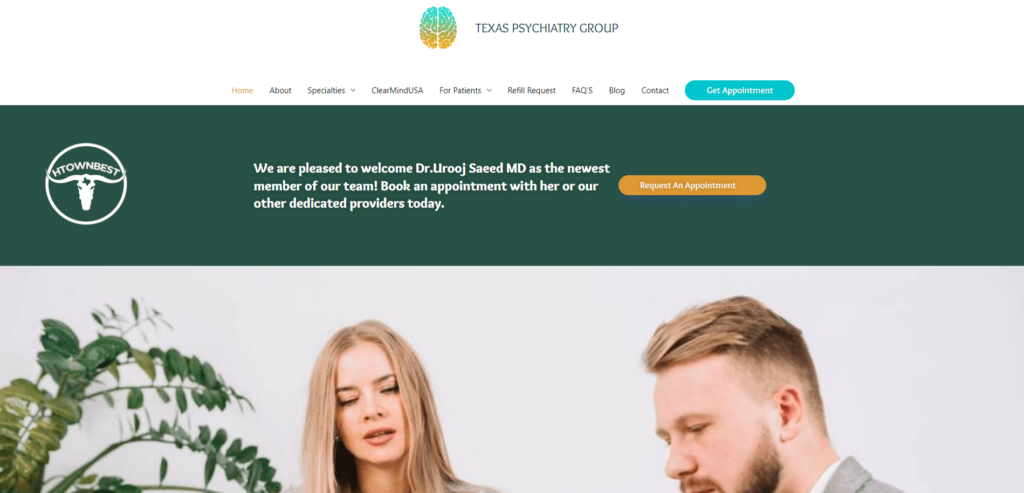 Services: Medication Management, Psychotherapy
Website: https://texaspsychiatrygroup.com/ 
Address: 2600 S Gessner Rd Suite 270 (Second floor), Houston, TX 77063
Contact Details: (832) 699-8900
Operating Hours: Monday – Thursday: 8:00 A.M. – 5:00 P.M.; Friday to Sunday: Closed
| | |
| --- | --- |
| Google Reviews Score | 4.4/5 |
| Yelp Reviews Score | 1/5 |
| Total Reviews | 4.5/5 |
| Score Consistency | 3/5 |
| | |
| --- | --- |
| Availability | 4.5/5 |
| Communication | 4/5 |
| Empathy | 5/5 |
| Specialization | 5/5 |
Specializes in Psychotherapy to complement medication treatment
Flexible when setting up counseling appointments
Slow in sending appointment reminders
Late for some appointments when there are too many clients
Texas Psychiatry Group excels in its Psychotherapy sessions, which they combine with medication to treat mental health disorders.
We applaud how the clinic's psychiatrists will let patients have a say in their treatments, using their input to formulate treatment plans. The doctors also make sure that the counseling addresses the mental issues that may arise during the medication period.
Patients must also attend therapy because it complements the medication. Counseling teaches methods to help people finish the treatment, including actions like proper medication adherence and forming healthy habits to cope with negative emotions.
Even though the company provides excellent counseling services, they are slow in sending reminders for follow-up exams, which means its clients may sometimes forget appointments.
This firm is also late for appointments at times, especially if their psychiatrists are treating many clients.
Still, we like that the Texas Psychiatry Group is its flexibility in providing counseling. Aside from offering same-day appointments, the company will also offer telehealth sessions if a client can't come to the office physically.
We think psychiatrists must offer fast and flexible counseling means because it enables them to tend to their patients' problems quicker, even if the patient can't visit due to various circumstances.
FAQs About Psychiatrists