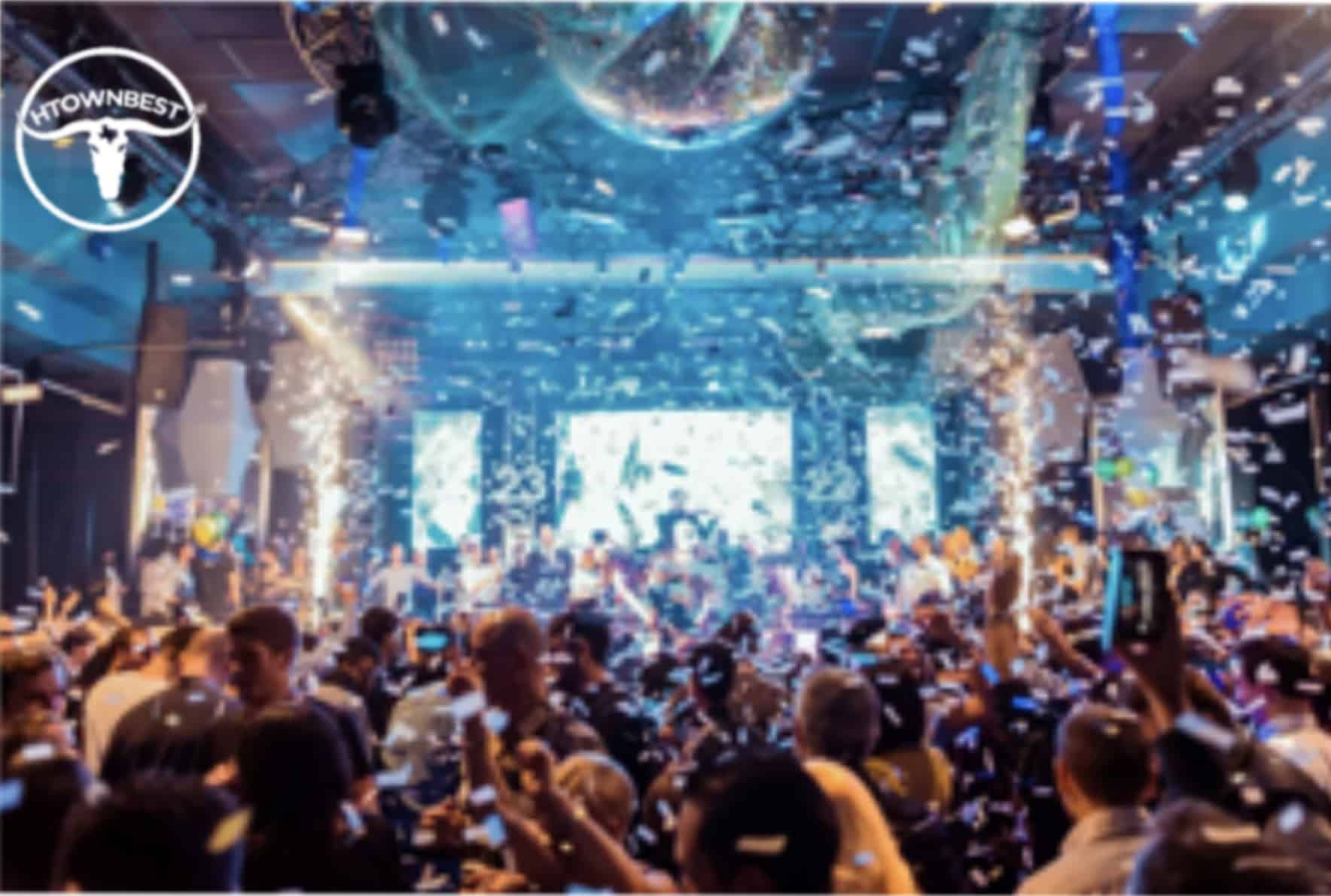 The 5 Best Under 21 Clubs/Bars in Houston
Our Criteria 
1. Numbers Night Club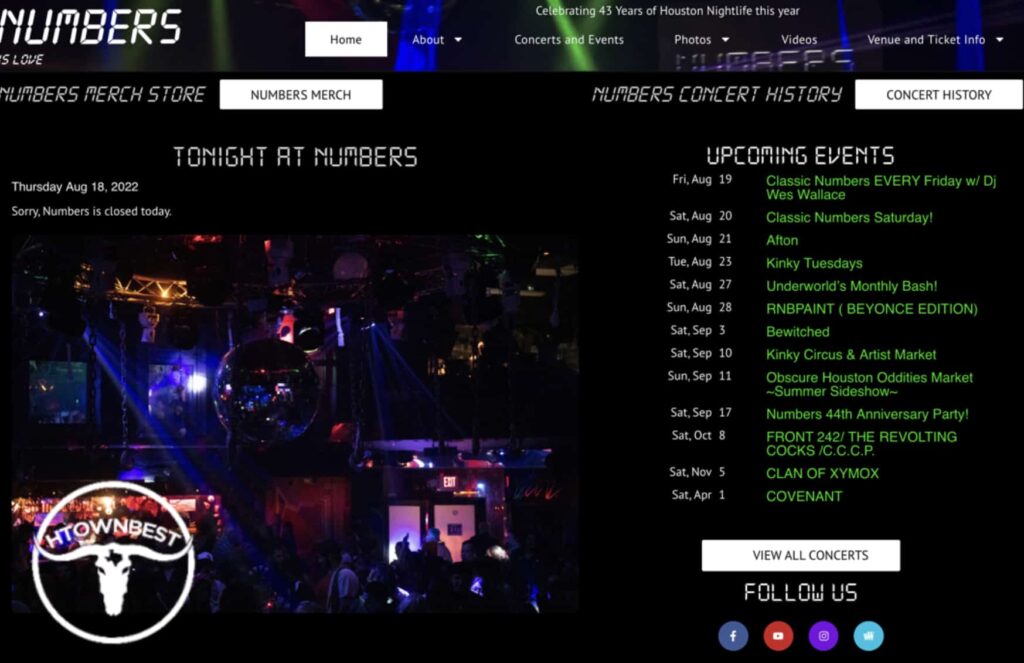 Services: Nightclub and Live Music Events
Website: https://numbersnightclub.com
Address: + 1 713 521 1121
Contact Details: 300 Westheimer Rd Houston, TX 7006
Operating Hours: Monday, Wednesday & Thursday: Closed
Friday – Sunday & Tuesday: 9 PM to 2 AM
| | |
| --- | --- |
| Google Reviews Score | 4.4/5 |
| Yelp Reviews Score | 3.5/5 |
| Facebook Reviews Score | 4.3/5 |
| Total Reviews | 4/5 |
| Score Consistency | 4/5 |
| | |
| --- | --- |
| Concept | 4/5 |
| Price | 4/5 |
| Atmosphere | 4/5 |
| Drinks | 4/5 |
Live music/concerts
Green screen backgrounds
MirrorMe booth
Dark interior 
Crowds get rowdy 
Numbers Nightclub is one of Houston's popular alternatives to underground nightlife. Not to mention being one of the oldest dance venues in Houston—at least, that's what we've heard.
Numbers Nightclub strives to provide a mixture of entertainment to its customers. Not only does Numbers Nightclub provide a place for people to dance, but it also allows guests to enjoy live alternative DJ music and live bands.
From our observations, most of the music played here is a mix of modern, classic synth-pop bands, new wave, post-punk and industrial goth taking us back to the 80s.
Besides live music, Numbers Nightclub also provides weekly special events, date nights, or even occasional concerts.
While there is a full-fledged bar at Numbers Nightclub, the age to enter is 18+.
Using the green screen backgrounds and their MirrorMe booth can help turn a night out at Numbers Nightclub into a fun evening for all—regardless of whether alcohol is being served or not.
Regarding their atmosphere, the windows may go from the floor to the ceiling, but there's hardly any lighting throughout the club. Their dark interior makes it difficult to watch for friends if you come with a group.
Since nights at Numbers Nightclub have the potential to grow out of hand, there is security posted all around for the safety of everyone. Especially on nights where there are live concerts hosted.
Additionally, no dress code is enforced as this is not an exclusive private nightclub.
2. Rise Rooftop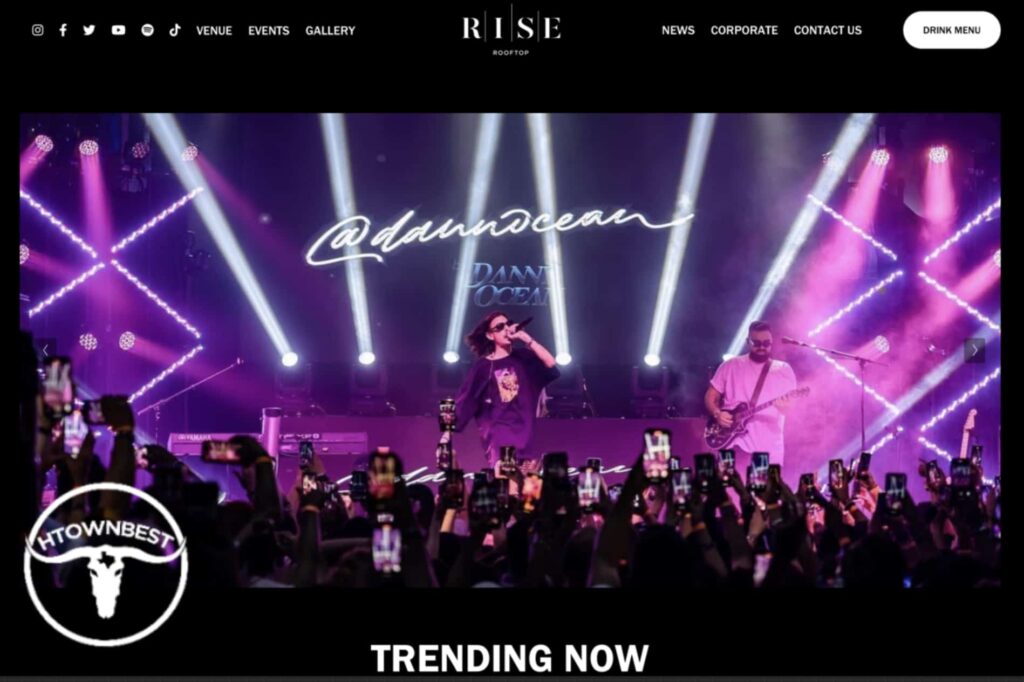 Services: Nightclub, Bar and Live Music Services Provided
Website: https://www.riserooftop.com
Address: 2600 Travis Street. Houston, TX 77006
Contact Details: (832) 767 0513
Operating Hours: Monday – Wednesday: Closed
Thursday: 8 PM to 1 AM
Friday: 10 PM to 2 AM
Saturday: 8 PM to 2 AM
Sunday: 2 PM to 8 PM
| | |
| --- | --- |
| Google Reviews Score | 4.2/5 |
| Yelp Reviews Score | 2.5/5 |
| Total Reviews | 4/5 |
| Score Consistency | 4/5 |
| | |
| --- | --- |
| Concept | 4.7/5 |
| Price | 3.5/5 |
| Atmosphere | 4.3/5 |
| Drinks | 4/5 |
Retractable rooftop
Live music 
Vibrant lighting 
Striking architecture
RISE Rooftop claims to redefine the nightlife in Houston, boasting to be the pioneer rooftop nightclub experience. Even bragging that they set the stage for any of Houston's ultimate live music experiences.
At least, that's what we've been told.
The people we spoke with that frequently go to RISE Rooftop even bragged about the club's architecture. Specifically stating to us that RISE Rooftop is striking both inside and outside.
After experiencing RISE Rooftop for ourselves, the atmosphere and interior design alone lived up to the hype comments from people we talked to.
RISE Rooftop embodies a unique, metal fabric framework design that gives way to its retractable roof. The retractable roof makes it possible to see the entire downtown skyline.
Besides this, RISE Rooftop club did not lack vibrant lighting, making it easier to keep safe throughout the evening.
We liked how RISE Rooftop keeps updated with the latest technology, implementing extravagant nightlife industry changes.
Besides being a rooftop nightclub, we noted that RISE Rooftop accommodates various holiday events and corporate activities. We were told by the general manager that some rent out RISE Rooftop for special occasions—for a hefty fee, of course.
Still, RISE Rooftop strives to cater to the needs of the local public, providing a safe and secure dancefloor for those 18 and older. The only downside to RISE Rooftop is that with exclusive luxuries comes luxurious prices.
3. Spire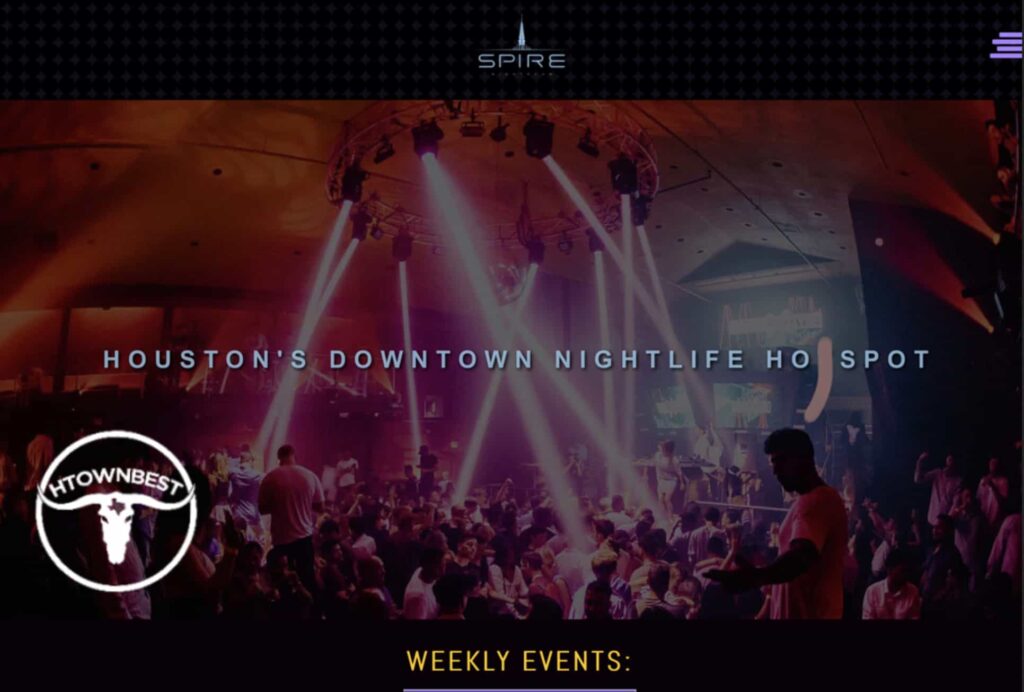 Services: Night Club Providing Various Music Events
Website: https://thespireclub.com
Address: 1720 Main St. Downtown Houston
Contact Details: +1 713-588-5279
Operating Hours: Fridays: 10 PM to 5 AM
Saturdays: 10 PM to 5 AM
Sunday: Special events only
| | |
| --- | --- |
| Google Reviews Score | 3/5 |
| Yelp Reviews Score | 1.5/5 |
| Total Reviews | 3/5 |
| Score Consistency | 3/5 |
| | |
| --- | --- |
| Concept | 3/5 |
| Price | 3/5 |
| Atmosphere | 3/5 |
| Drinks | 3/5 |
Hookah available
Live concerts 
Closed Mon – Thurs
Dirty bathrooms
Claustrophobic dancefloor 
Spire nightclub is one of the hotspots among people under 21 years old. Granted, people over 21 can come to Spire nightclub, but keep in mind that alcohol is not served.
Despite this, Spire does hold live music events and concerts with tickets that can be purchased in advance online. Therefore, we noted that the dancefloor is closed on days when there are live events.
Although on regular nightclub days at Spire, the entrance fee is $20.00. With very limited parking, we recommend being cautious of parking in Spire's parking lot if you want to avoid a fender bender.
Regarding the inside of Spire, all of the staff we spoke with were attentive, helpful, and recommended different mock-tail drinks. We did, however, note that the bathrooms at Spire are filthy and reeked of old dirty socks in gym lockers.
Additionally, the dance floor has little to no room at all. It was as if we were sardines in a can—a little too claustrophobic for our taste.
Still, the security guards around the nightclub brought a sense of relief and safety over our shoulders. We liked how even the staff members at Spire occasionally checked on people sitting at the VIP tables.
By the way, Spire also provides Hookah available to purchase for $60.
4. Blur Bar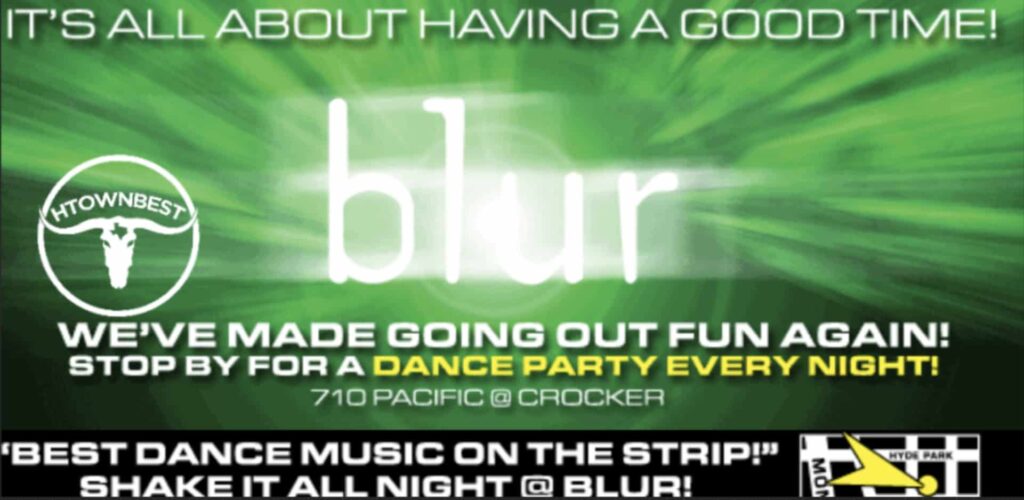 Services: Two-Story Night Club and Bar
Website: http://www.blurbar.com
Address: 710 Pacific St., Houston, TX 77006
Contact Details: 1-713-529-3447
Operating Hours: Monday- Wednesday: Closed
Thursday – Sunday: 10:30 PM to 2 AM
| | |
| --- | --- |
| Google Reviews Score | 3.8/5 |
| Yelp Reviews Score | 2.5/5 |
| Total Reviews | 3/5 |
| Score Consistency | 3/5 |
| | |
| --- | --- |
| Concept | 3/5 |
| Price | 3/5 |
| Atmosphere | 3/5 |
| Drinks | 3/5 |
Two story club
Reasonable bar service 
$15 for those under 21 
Distracted staff members
Blur Bar is a two-story contemporary dance club popular for its stellar mix of high-energy hip-hop, top 40, and Latin music. At least, that's what we've heard.
Frequent customers of Blur bar have commented on the overall sexy appeal of Blur Bar's atmosphere and lounge. Customers also boasted about Blur Bar's Wednesday drink specials that last all night.
At Blur Bar, all ages from 18+ are welcomed at the entrance. However, we noted a price difference at the front entrance for those below 21.
Anyone who is 21+ can enter Blur Bar for just eight dollars. On the other hand, anyone who is under 21 has to pay $15 to enter the bar.
The inside of Blur bar does live up to the comments people made to us. The downstairs of Blur Bar has stripper poles for the use of dancers on the dancefloor—hence the sexy appeal remark.
Besides this, there are booths sprinkled throughout the bar on the downstairs level. The bar service is reasonably priced, with alcoholic drinks starting at $8 and mocktail drinks offered for people underage.
Upstairs, we took note of a few people kicking back in the Blur Bar lounge, which leads to a balcony allowing for a breath of fresh air and an escape from the crowds.
As for the staff members at Blur Bar that we interacted with, they were too distracted by the crowds to answer any of the questions we had.
Additionally, the music is played by a live DJ, and it's a mix of the latest radio hits and music from the early 2000s.
5. Metropolis & Extravaganza
Services: Latin Style Night Club
Website: https://www.metropolisdisco.com
Address: 8925 Richmond Ave., Houston, TX 77063, United States
Contact Details: +1 346-212-7557
Operating Hours: Monday – Thursday: Closed
Friday – Sunday: 9PM to 2AM
| | |
| --- | --- |
| Google Reviews Score | 3.9/5 |
| Yelp Reviews Score | 3/5 |
| Facebook Reviews Score | 4.2/5 |
| Total Reviews | 3/5 |
| Score Consistency | 3/5 |
| | |
| --- | --- |
| Concept | 3/5 |
| Price | 3/5 |
| Atmosphere | 3/5 |
| Drinks | 3/5 |
Two dance clubs in one
Good variety of music 
Closed Mondays thru Thursdays
Watered down drinks
Salty undercooked appetizers 
Metropolis and Extravaganza is the combination of two different dance clubs under the same rooftop.
Thus, it's no wonder Metropolis and Extravaganza are popular spots for those looking for nightlife in Houston.
Despite the strict dress code enforced at the door, Metropolis and Extravaganza cater to the music tastes of all types of guests.
Yes, people can dance all night long here on the weekends only, though, for they are closed Mondays thru Thursdays.
Depending on the night, ladies can even get in for free. Not to mention the variety of drink specials as well.
Since most of the staff at Metropolis and Extravaganza speak Spanish, we had some difficulties navigating the two clubs. Still, we noted the wide variety of music played by the live DJ.
The music varied from classic salsa and merengue to reggae and even old-school hip-hop beats.
Moreover, the dancefloor was overcrowded, with people even dancing by the wall off to the side.
Although the drinks and the food offered at Metropolis and Extravaganza was reasonably priced, their bar service was less than impressive due to their watered-down alcoholic drinks.
Additionally, their mocktails were too sweet for our taste and their appetizers too salty and undercooked.
FAQs