Exploring Houston Architectural: From Skyline to Suburbs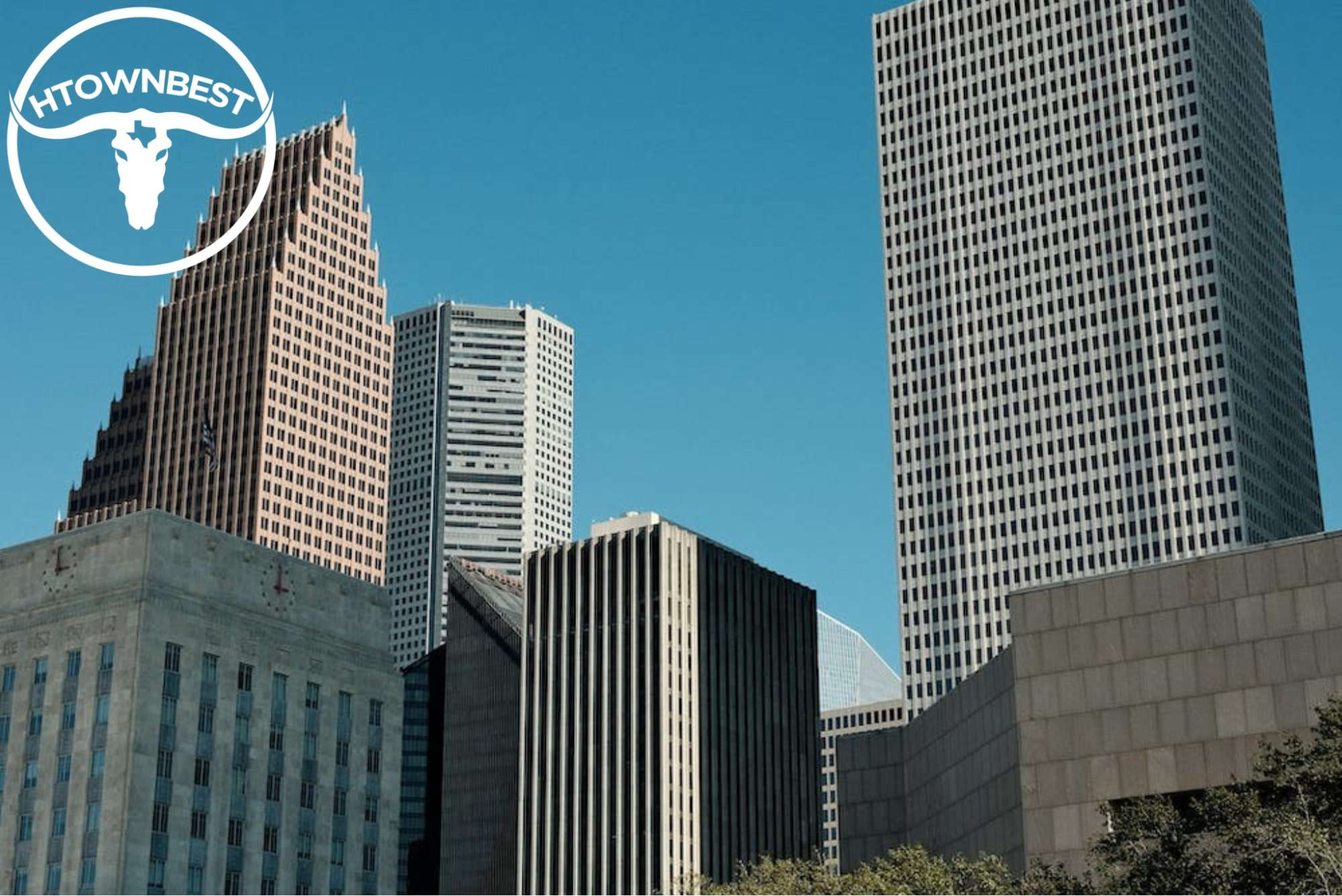 The vibrant city of Houston is home to towering skyscrapers and charming historic landmarks. From sleek contemporary buildings to more ornate classical structures, this city is a treasure trove of design.
So, whether you're an architecture aficionado, an avid explorer, or simply curious about the captivating world of design, let's dive into the captivating realm of Houston's architectural scene and the significant buildings you can't miss.
What are the most popular architectural styles in Houston? 
Houston is renowned for its diverse architectural landscape. Here are some of the most popular architectural styles found in Houston:
Many historic neighborhoods in Houston feature beautifully restored Victorian homes with their iconic steep roofs, vibrant colors, and intricate woodwork.
Craftsman homes in Houston often showcase low-pitched roofs, wide front porches, and exposed wooden beams. They are cherished for their cozy and inviting atmosphere.
These homes are characterized by clean lines, open floor plans, and large windows that seamlessly blend indoor and outdoor spaces.
Plenty of homes in Houston feature stucco exteriors, red tile roofs, wrought iron details, and arched entryways which exude a sense of elegance and old-world charm.
Houston's ever-evolving skyline features plenty of innovation, creativity, and often sustainable features. These structures push boundaries with their unique shapes, modern materials, and large-scale glass facades.
What are the architectural styles in significant Houston neighborhoods? 
Historic Heights
The Heights, a historic neighborhood known for its vibrant atmosphere and tree-lined streets, showcases an eclectic mix of architectural styles. Here, you'll find beautiful Victorian homes with their intricate detailing, colorful facades, and charming porches.
Craftsman-style houses also grace the neighborhood, with low-pitched roofs, exposed wooden beams, and front porches. You'll also see plenty of Colonial Revival homes with their symmetrical facades, prominent columns, and refined details.
Eastwood 
Craftsman and Arts and Crafts homes are prominent in Eastwood, showcasing their emphasis on natural materials, simple lines, and a connection to the surrounding landscape.
Foursquare houses with their practical and functional design, can also be found here, as well as examples of the Mission Revival style, characterized by its Spanish-inspired elements like arched windows, stucco exteriors, and red tile roofs.
Woodland Heights
Woodland Heights, an idyllic neighborhood nestled among towering trees, offers a glimpse into the mid-century modern architectural style with plenty of stylish bungalows.
Additionally, the neighborhood showcases other architectural influences like prairie, colonial, and federal styles, adding to its architectural diversity and visual appeal.
Memorial Bend
Memorial Bend, a neighborhood with a distinct mid-century character, is home to a range of architectural styles from the 1950s and early 1960s, but the modern or contemporary style is prevalent here
Ranch-style homes, with their single-story layout and connection to the outdoors, can also be found in Memorial Bend. Traditional architectural styles are represented as well, adding a touch of timeless elegance to the neighborhood's architectural fabric.
TC Energy Center (Bank of America Center)
Address: 700 Louisiana St, Houston, TX 77002, United States
Phone Number: +1 713-224-0181
The Bank of America Center in Houston boasts an impressive postmodern architectural style. With its combination of glass, steel, and stone, this building catches the eye with its contemporary design and sleek aesthetic.
The grand entrance and reflective glass facade add a touch of elegance to the city's skyline. It's a standout structure that perfectly blends modern elements with timeless charm, making it a must-see for architecture enthusiasts.
Caroline Weiss Law Building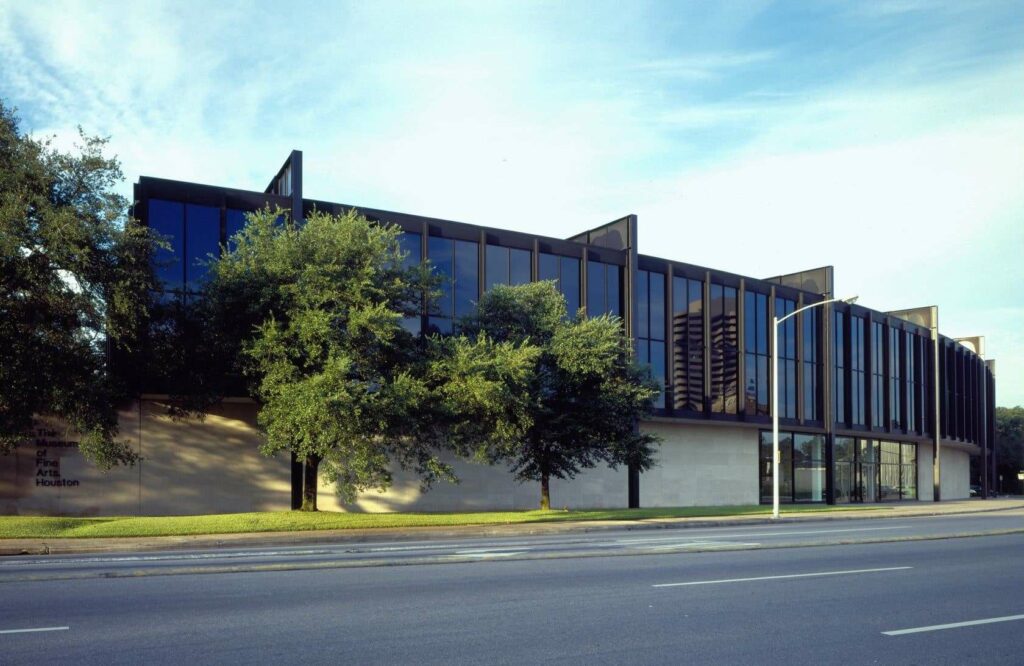 Address: 1001 Bissonnet St, Houston, TX 77005, United States
Phone Number: +1 713-639-7325
For those who appreciate a clean and minimalist approach to architecture, the Caroline Weiss Law Building at the Museum of Fine Arts in Houston is a true gem. This modern masterpiece showcases sleek lines, a simple color palette, and a focus on functionality.
Its design reflects a contemporary sensibility while creating a welcoming and conducive environment for learning. With its understated elegance and thoughtful design, the Caroline Weiss Law Building is a testament to the power of minimalist architecture.
Chapel of St. Basil
Address: Malloy Hall, 1018 W Alabama St, Houston, TX 77006, United States
Phone Number: +1 713-525-3589
The Chapel of St. Basil blends modern and classical elements. Located on the University of St. Thomas campus, this iconic chapel showcases a unique fusion of Byzantine and contemporary design.
Its geometric shapes, mainly using the cube, sphere, and a flat plane, soaring arches, and intricate details create a good spot for architecture appreciation.
Downtown Houston
Downtown Houston is a vibrant hub that boasts a diverse mix of architectural styles. From towering skyscrapers to historic buildings, this bustling district offers a visual feast for architecture enthusiasts.
You'll find a blend of modern glass-and-steel structures, Art Deco gems, and elegant Victorian-era buildings. As you explore the streets of downtown, you'll be immersed in a rich tapestry of architectural history and contemporary design.
Heritage Plaza
Address: 1111 Bagby Street, Houston, Texas, United States
Phone Number: +1 713-651-3440.
Heritage Plaza is a shining example of Houston's skyscraper architecture. This iconic tower features a sleek and distinctive design, with its pyramid-shaped crown and sleek facade.
Standing tall in the heart of downtown, Heritage Plaza commands attention with its unique architectural features. The building's granite exterior and floor-to-ceiling windows create a sense of grandeur and sophistication.
Houston City Hall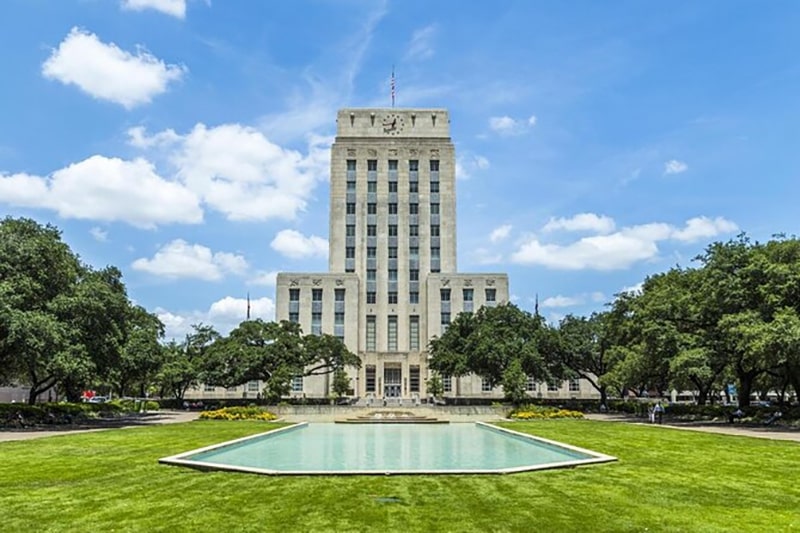 Address: 901 Bagby St, Houston, TX 77002, United States
Phone Number: +1 713-837-0311
Houston City Hall stands proudly as a prominent example of the Art Deco architectural style. Its sleek lines, geometric patterns, and decorative elements pay homage to the elegance and glamor of the early 20th century.
The building's exterior features intricate stonework and ornamental details, while the interior showcases beautiful murals and a grand staircase.
Houston Cotton Exchange
Address: 1310 Prairie St #150, Houston, TX 77002, United States
Phone Number: +1 713-222-1510
Website
The Houston Cotton Exchange building is a testament to Houston's rich history as a center for the cotton industry. This historic structure features a distinctive Beaux-Arts architectural style, characterized by its grandeur and classical elements.
Its facade showcases grand arches, intricate detailing, and a sense of symmetry. The building's design exudes a sense of prestige and importance, reflecting its role as a hub for cotton trading in the early 20th century.
Jesse H. Jones Hall for the Performing Arts
Address: 615 Louisiana Street, Suite 100, Houston, Texas 77002-2715, United States
Phone Number: +1 713-227-4772
Jesse H. Jones Hall for the Performing Arts is a magnificent venue that combines the elegance of classical architecture with modern functionality. This notable building showcases a blend of neoclassical and modernist influences.
The design is described as having crypto-classical elements with its grand exterior features towering columns, and ornate detailing. Inside, the auditorium offers a stunning space for performances, with its soaring ceilings and great acoustics.
JP Morgan Chase Building
Address: 600 Travis St, Houston, TX 77002, United States
Phone Number: +1 713-223-0441
The JPMorgan Chase Building is a modern skyscraper embraces a contemporary architectural style, characterized by its glass curtain walls and clean lines.
Its impressive height and reflective surface create a striking presence, while the geometric patterns on its facade add visual interest. The interior of the building adds an element of contrast with Art Deco elements to balance out the simplicity of the exterior.
Menil Collection
Address: 1533 Sul Ross St, Houston, TX 77006, United States
Phone Number: +1 713-525-9400
The Menil Collection boasts a unique architectural style that isn't common among museums. The structure follows a combination of High-tech modern and a Minimalistic design that focuses on simplicity, clean lines, and open spaces.
The building's exterior is characterized by its understated elegance and minimalist aesthetic. Inside, natural light fills the galleries through large windows, creating a serene and contemplative atmosphere.
Merchants and Manufacturers Building (M&M Building)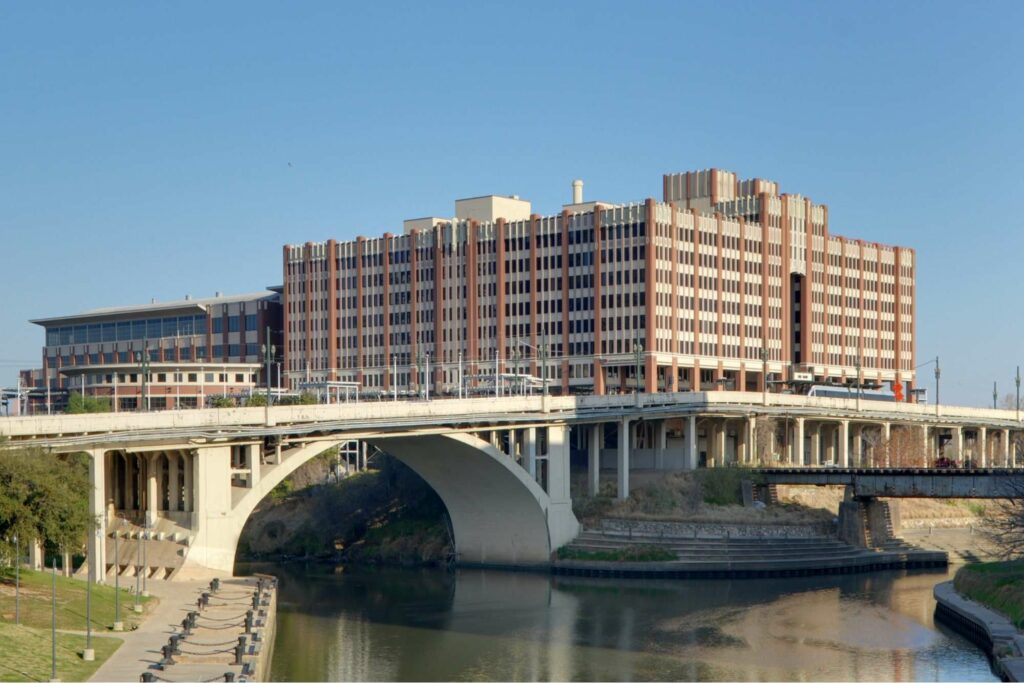 Address: 1 Main St, Houston, TX 77002, United States
The M&M Building showcases the distinctive Art Deco architectural style, popular during the 1920s and 1930s. Its facade features geometric patterns, sleek lines, and decorative motifs that capture the spirit of the Jazz Age.
The building's intricate details, such as ornamental friezes and stylized elements, evoke a sense of sophistication balanced with creativity that characterizes the Art Deco vibe
Miller Outdoor Theater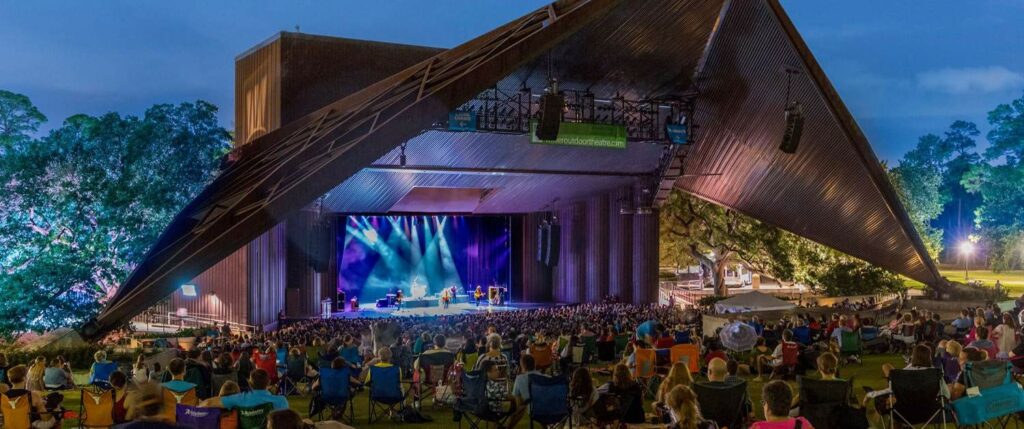 Address: 6000 Hermann Park Dr, Houston, TX 77030, United States
Phone Number: +1 832-487-7102
Miller Outdoor Theater is an architectural marvel that blends outdoor performance space with modernist design. The theater's open-air design and amphitheater-style seating allows audiences to enjoy performances amidst the beauty of Hermann Park.
It originally had 20 Corinthian limestone columns flanking the stage, but renovations took a more neoclassical direction for the outdoor theater. Its stage is framed by a bold, triangular canopy that provides shade and adds a contemporary touch to the space.
Niels and Mellie Esperson Buildings
Address: 808 Travis St STE 100, Houston, TX 77002, United States
Phone Number: +1 713-224-1663
The Niels and Mellie Esperson buildings are iconic structures that represent the neoclassical and Italian Renaissance architectural style. These towering landmarks showcase a blend of classical and Gothic Revival elements.
The buildings' exteriors feature intricate stonework, elaborate detailing, and elegant ornamentation. Inside, the lobbies are adorned with marble, stained glass, and decorative plasterwork, exuding an air of opulence that reflects its design intentions.
Pennzoil Place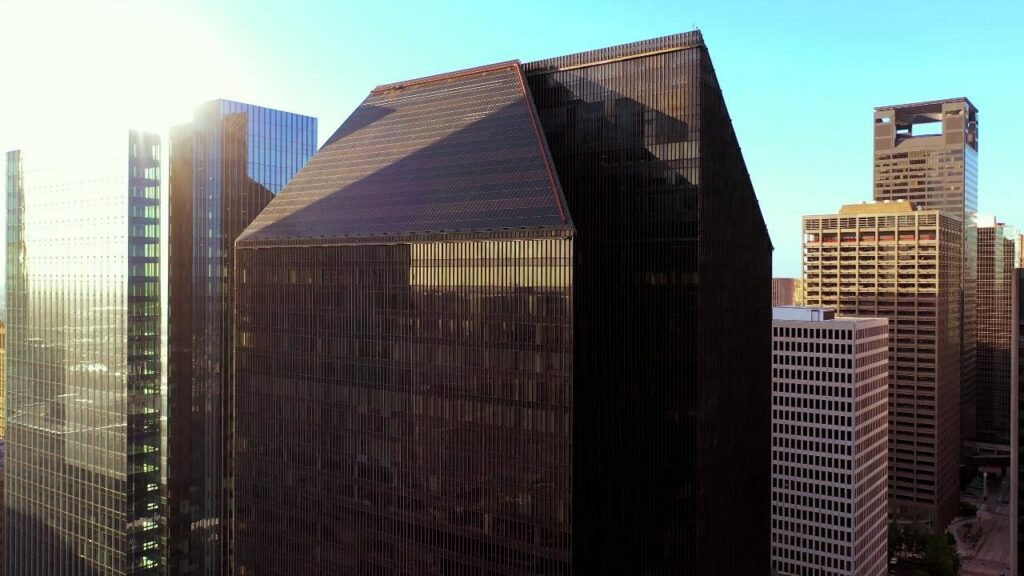 Address: 711 Louisiana St, Houston, TX 77002, United States
Phone Number: +1 713-224-5930
Pennzoil Place is an architectural marvel that embodies the innovative design of the late 20th century. The building's unique feature is its twin trapezoidal towers, which lean towards each other and appear to embrace one another.
This distinctive design creates a sense of movement and visual interest. The towers' exteriors feature alternating bands of reflective glass and aluminum panels, adding to the building's striking appearance.
Rice University
Address: 6100 Main St, Houston, TX 77005, United States
Phone Number: +1 713-348-0000
Rice University showcases a beautiful blend of architectural styles, with the most prominent being Mediterranean Revival style.
The campus features pointed arches, intricate stone carvings and columns, brick work, and wide quadrangles that enhance the characteristics of the architectural style. The use of limestone, stained glass windows, and ornate details adds to the charm of the university's architecture.
River Oaks Theater
Address: 2009 W Gray St, Houston, TX 77019, United States
Phone Number: +1 713-524-2175
River Oaks Theater is a true gem of Art Deco architecture in Houston, specifically from the 1930s. Its distinctive curved marquee and geometric facade transport you to the glamorous era of the 1930s.
Inside, the theater's lavish interior showcases intricate plasterwork, colorful murals, and luxurious furnishings. The atmospheric lighting and elegant design elements create a captivating ambiance that enhances the movie-watching experience.
Saint Martin's Episcopal Church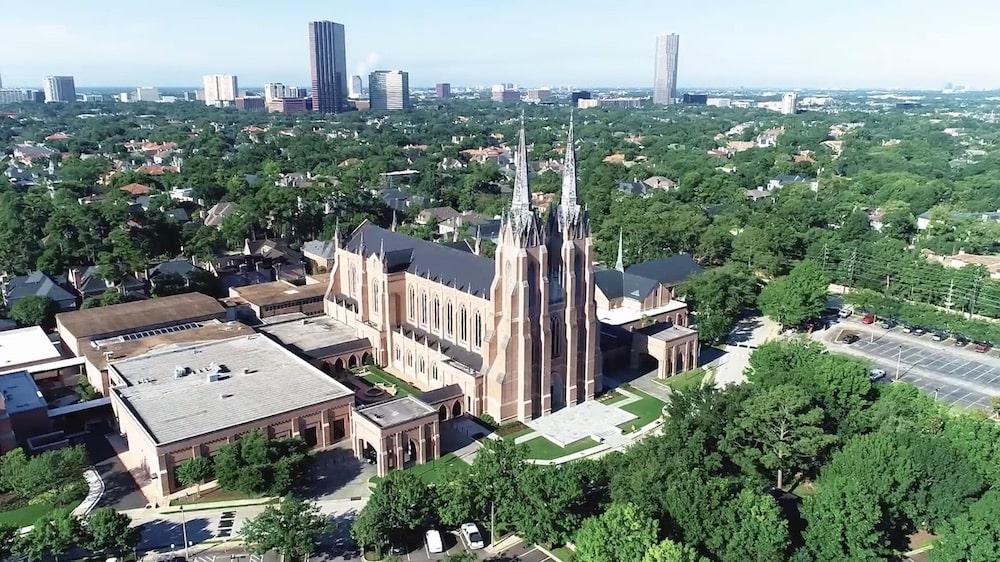 Address: 717 Sage Rd, Houston, TX 77056, United States
Phone Number: +1 713-621-3040
Saint Martin's Episcopal Church stands as a beautiful example of Gothic Revival architecture. The church's pointed arches, intricate tracery, and soaring spires are reminiscent of medieval European cathedrals.
Inside, the richly decorated stained glass windows illuminate the sanctuary with a mesmerizing play of colors. The use of stone, wood, and ornamental details adds to the sense of grandeur and sacredness.
You can appreciate the elements of the structure by attending a service or admiring the architectural beauty from outside, but seeing the church as a whole from a far allows for a more impactful viewing.
Trinity Church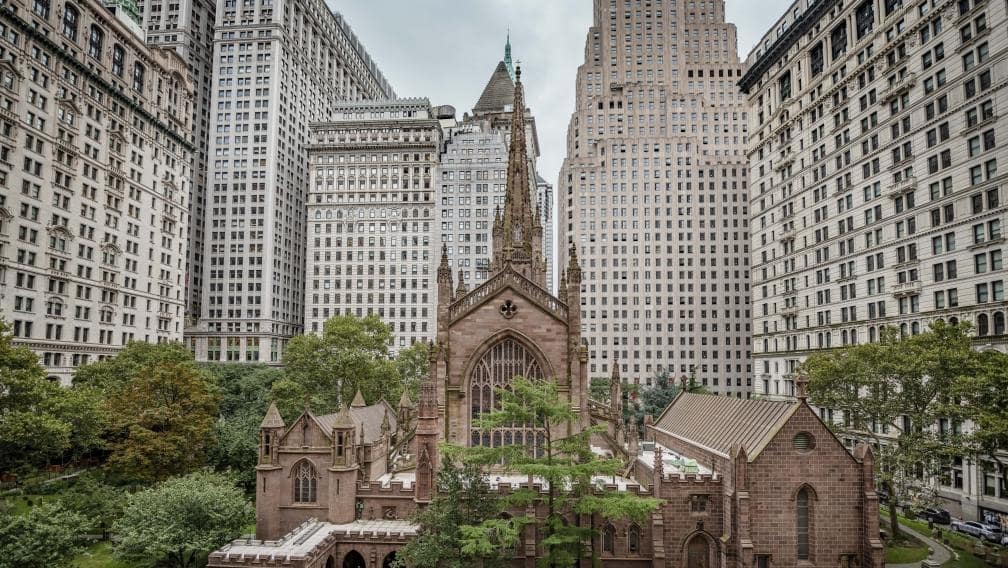 Address: 1015 Holman St, Houston, TX 77004, United States
Phone Number: +1 713-528-4100
Trinity Church stands as a testament to the Neoclassical architectural style. Its symmetrical facade, elegant columns, and pedimented portico create a sense of balance and harmony.
The use of white stone and clean lines adds to the timeless appeal of the church's design. Inside, the sanctuary features a beautiful altar, exquisite chandeliers, and intricate detailing that reflects the Neoclassical aesthetic.
Williams Waterwall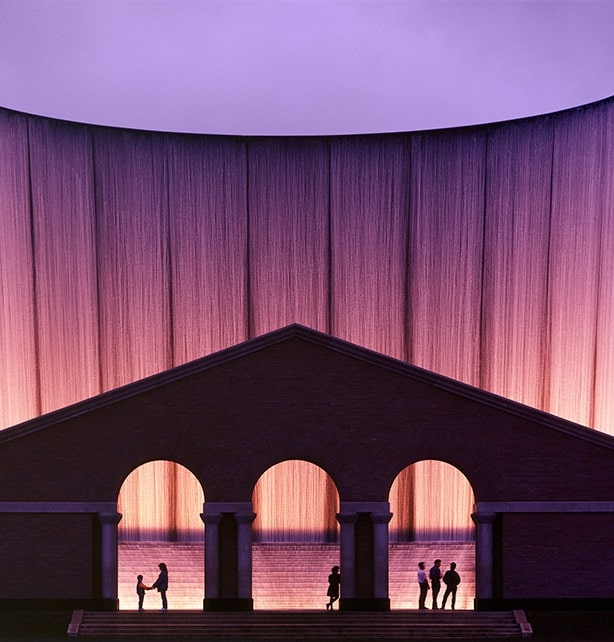 Address: 2800 Post Oak Blvd, Houston, TX 77056, United States
Phone Number: +1 713-850-8841
The Williams Waterwall (water wall park houston) is a modern architectural marvel that combines nature and design. This stunning 64-foot tall semi-circular structure features a cascading waterfall that creates a unique display of water and sound.
The use of sleek, reflective materials adds a contemporary touch to the waterwall's design. The archways that precede the waterwall also add a sense of grandeur to the overall structure.
Surrounding the waterwall is a park with lush greenery, for a tranquil escape in the heart of the city. The impressive scale of the waterfall and the peaceful backdrop of the park, offers a captivating blend of nature and architecture that leaves a lasting impression.