The Top Castles to Visit Near Houston (Must-see!)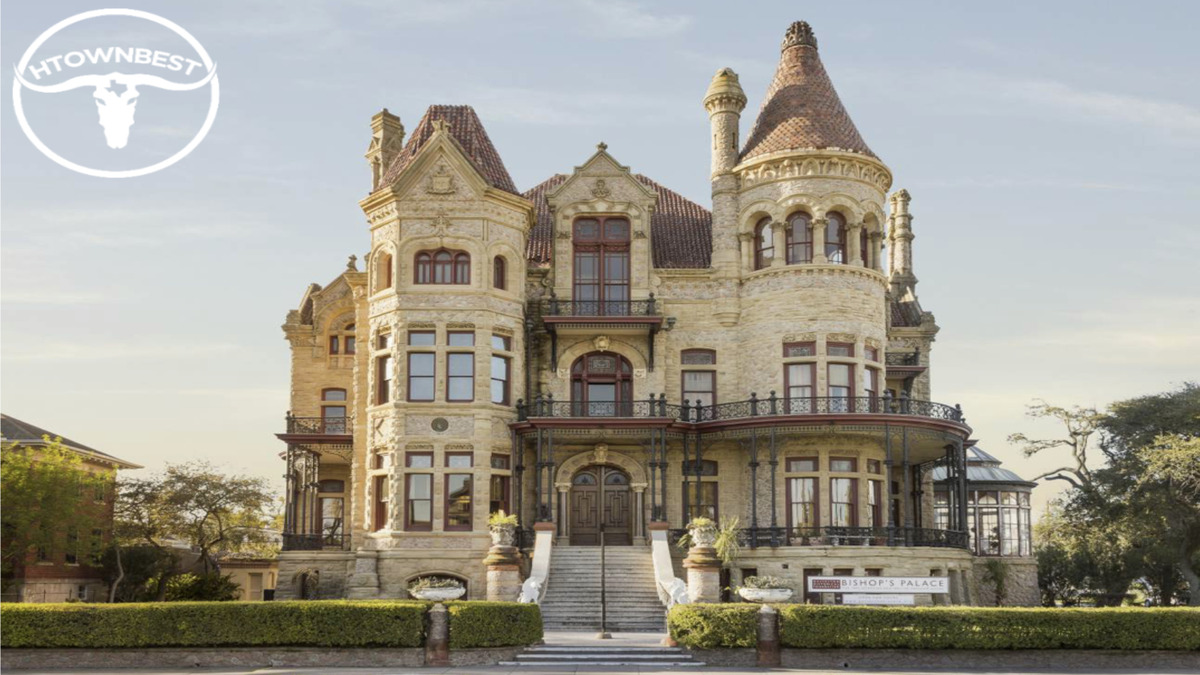 While Houston may be better known for its space center and bustling city life, many castles near the area transport you to a different era. From lavish residences mimicking European grandeur to historical landmarks steeped in tales of yesteryear, these castles near Houston offer a captivating blend of history, architecture, and charm.
Wondering where the best castles near Houston are? You're in luck because we've spent weeks scouting out the best of the best and have compiled a list of enchanting castles for you to go see!
1. The Bishop's Palace Galveston  
Address: 1402 Broadway Avenue J, Galveston, TX 77550, United States
Hours: Monday to Sunday – 10 AM to 5 PM
Phone: +1 409-762-2475
The Bishop's Palace is an ornate Victorian-style architectural marvel. Its design features a blend of stone and steel, which adds to the building's resilience and grandeur.
Every corner of the Bishop's Palace tells a story of the past. Opt for self-guided tours or participate in guided tours to gain deeper insight into this castle's history and architectural significance.
Pro Tip: 
Don't just limit yourself to the daylight hours. Consider booking an evening tour! Their "Basement to Attic" tours offer a unique perspective of this historic landmark, and you also get access to areas usually closed off to the public during regular visiting hours.
2. Chateau Cocomar
Address: 14525 Champions Dr, Houston, TX 77069, United States
Hours:
Monday to Thursday – 9 AM to 6 PM
Friday to Sunday – Closed
Chateau Cocomar is just a 30-45 minute drive from downtown Houston. It captivates the imagination of all who visit this castle with its European charm and grandeur.
The Chateau Cocomar is a testament to how good a fusion of European elegance and Texan hospitality can be. The estate has elegantly designed architecture, imported antiques, hand-painted murals, and marble floors.
Pro Tip: 
Make sure to arrange a guided tour ahead of time. This isn't just a walk-in destination, it's also an event venue, so public access may be limited.
3. Trube Castle Galveston 
Address: 1627 Sealy Street, Galveston, TX 77550
Hours:
Monday to Friday: 9 AM to 6 PM
Saturday & Sunday: Closed
Phone: +1 409-765-8500
While Trube Castle is a private residence and not generally open for public tours, it's worth admiring from the outside. Trube Castle Galveston blends Danish castle-inspired design and Victorian-era charm.
The castle's exterior exhibits an exceptional blend of architectural styles, including Gothic Revival and Victorian influences. It exudes a sense of grandeur that's hard to miss.
Pro Tip: 
If you plan your visit during one of the city's historic home tours, like the annual Galveston Historic Homes Tour, and if Trube Castle is one of the featured homes, you may have a chance at having a private tour of this castle. 
4. Newman's Castle Bellville
Address: 1041 Old TX-36 Bellville, Texas, 77418
Hours: +1 979-865-9804
Just an hour's drive from Houston is a surprising sight: Newman's Castle, an authentic, full-scale castle complete with a moat, drawbridge, and towering turrets.
Inside, you'll find a chapel, a banquet room, and living quarters, all meticulously designed with medieval aesthetics in mind. From the hand-crafted wooden furniture to the suits of armor standing guard, every detail contributes to the immersive experience.
Surrounding the castle are lush gardens and a scenic landscape that further adds to the place's charm. There's even a working catapult on the premises.
Pro Tip: 
Don't just show up to this castle! To visit, you must make a reservation through Newman's Bakery. 
5. Moody Mansion Museum Galveston 
Address: 2618 Broadway Avenue J, Galveston, TX 77550, United States
Hours: Monday to Sunday – 10 AM to 5 PM
Phone: +1 409-763-7668
The magnificent Moody Mansion Museum is one of the grandest residential buildings in Texas and a must-visit for anyone interested in architecture, history, or simply the allure of bygone eras.
The mansion features a stunning blend of Romanesque and French Renaissance architectural styles, intricate carvings, towering columns, and ornate detailing. Take a self-guided tour through 20 rooms filled with original furnishings, personal effects, and an array of artifacts that tell the story of the Moody family.
Pro Tip: 
During the tour don't miss out on the library—it's one of the more hidden spots to get great selfies. Also, don't skimp out on the "Servants View" tour, which provides insight into the lives of the domestic staff who worked at the mansion. 
6. Chateau Bellevue 
Address: 708 San Antonio St, Austin, TX 78701, United States
Hours:
Monday to Friday – 9 AM to 4 PM
Saturday & Sunday – Closed
Phone: +1 512-472-1336
This historic mansion is a must-visit for anyone interested in stepping back in time.
Built in 1874, Chateau Bellevue was originally the home of Harvey and Catherine North, two of Austin's early settlers.
Inspired by French Romanesque architecture, the mansion's unique design sets it apart from other historic sites. The exterior of Chateau Bellevue is a sight to behold, with its ornate wrought-iron balconies, towering turrets, and intricate stone detailing.
But it's the interior that truly steals the show. Each room tells a tale of the past, filled with artifacts and memorabilia from the North family.
Pro Tip: 
Consider contacting the Austin Woman's Club in advance. They occasionally host public events such as lectures, art exhibits, and concerts at the mansion. These events not only offer an opportunity to explore the stunning interiors of Chateau Bellevue.
RS: 54.5
ST: 
MD: