The Top 3 Strawberry Farms We Tried Near Houston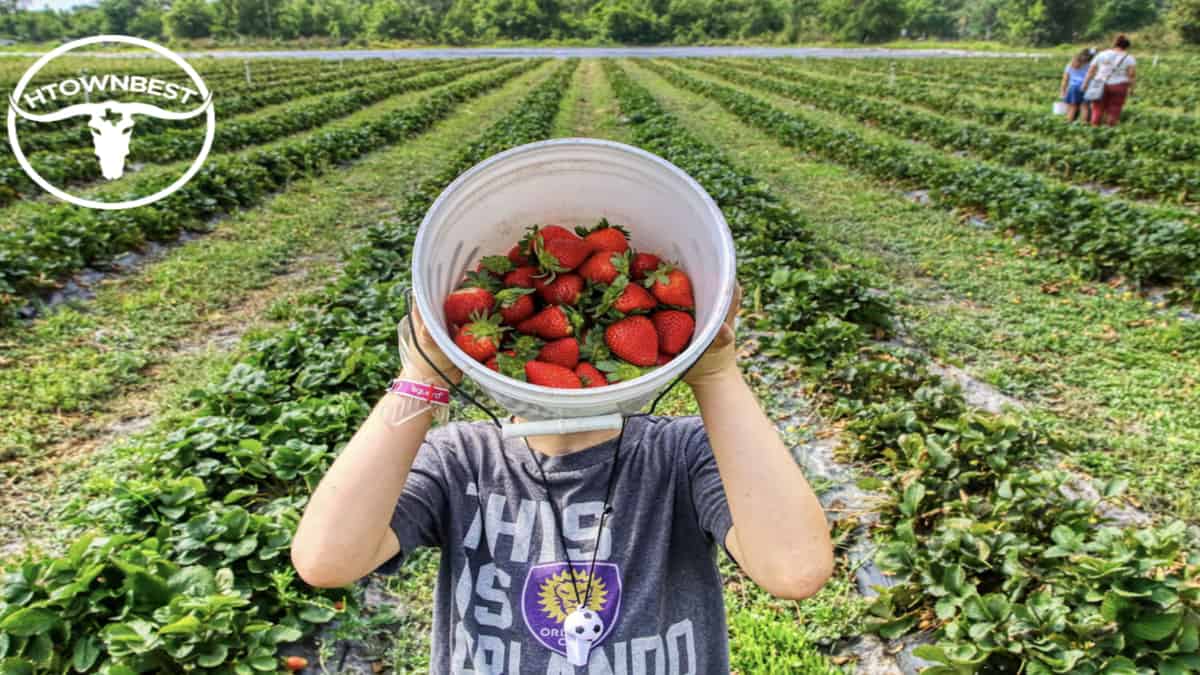 Craving freshly picked strawberries. We have just the thing to hit the spot today. Our list of the best strawberry farms around Houston is the perfect solution for your craving!
We spent a few days going to these farms and trying them all out—which means we now have more strawberries and strawberry jam than we know what to do with. Still, it was for a good cause. Now, let's check out the farms we most recommend!
Atkinson Farms
Address: 3217 Spring Cypress Rd, Spring, TX 77388, United
Phone: +1 832-381-8202
Hours: Monday to Saturday – 10 AM to 6 PM
Sunday – 10 AM to 2 PM
Prices:
$3 – Entry fee
$4.99 – Per pound
Distance From Houston: 25 minutes
Atkinson Farms grows several mouthwatering strawberry varieties, including the ever-popular Chandler and the irresistibly sweet Camarosa, ensuring each person finds their perfect berry match.
But that's not all! Atkinson Farms offers more than just strawberry picking.
They also host seasonal events and activities for the whole family to enjoy. From hayrides and pumpkin patches to sunflower fields and farm animals, there's never a dull moment at this farm.
Pro Tip: 
Plan your visit to Atkinson Farms during the week, preferably in the morning. Not only will you avoid weekend crowds, but you'll also have the first pick of the day's ripest and most luscious strawberries.
Froberg's Farm
Website: Froberg's Farm 
Address: 3601 W Hwy 6 Alvin, TX 7751
Hours: Monday to Sunday – 8 AM to 6 PM
Prices:
$2 – Froberg bucket
$4 – per pound
Distance From Houston: 32 minutes
If you've never been to Froberg's Farm, you're in for a treat. It's a family-owned and operated farm that's been in business for over 50 years. They grow various fruits and vegetables, but their strawberries are their specialty.
Pick your own strawberries typically starts in January and lasts through mid-May. They have a mouthwatering selection of strawberry varieties, such as the luscious Camarosa.
But the fun doesn't stop at strawberry picking! Froberg's Farm also offers a range of entertaining activities, including their famous corn maze, tractor rides, and the delightful Farmer's Market, where you can sample and purchase locally-sourced products and homemade treats.
Pro Tip: 
Be sure to indulge in their scrumptious homemade strawberry shortcake. 
Jollisant Farms
Website: Jollisant Farms
Address: 11351 County Rd 203, Plantersville, TX 77363, United States
Phone: +1 936-894-2766
Hours: Monday to Sunday – 9 AM to 4 PM
Prices: $7 – per pound
Distance From Houston: 53 minutes
Jollisant Farm is a family-owned strawberry farm that cultivates luscious varieties of strawberries, such as the juicy Sweet Charlie and the ever-flavorful Camino Real. Their carefully nurtured strawberries are Instagram-worthy and pack an incredible taste.
When visiting, you can participate in activities such as picking your own ripe strawberries from the fields, making jams and jellies out of freshly picked berries, and creating scrumptious seasonal recipes with their homegrown produce.
There are also fun events at the farm throughout the year, including cooking classes, educational programs for kids, and special music concerts celebrating local talent.
Pro Tip: 
Be sure to stop by their quaint on-site store. Here, you'll find an array of homemade goodies, like jams, jellies, and baked treats, all crafted with love using their own farm-fresh produce.