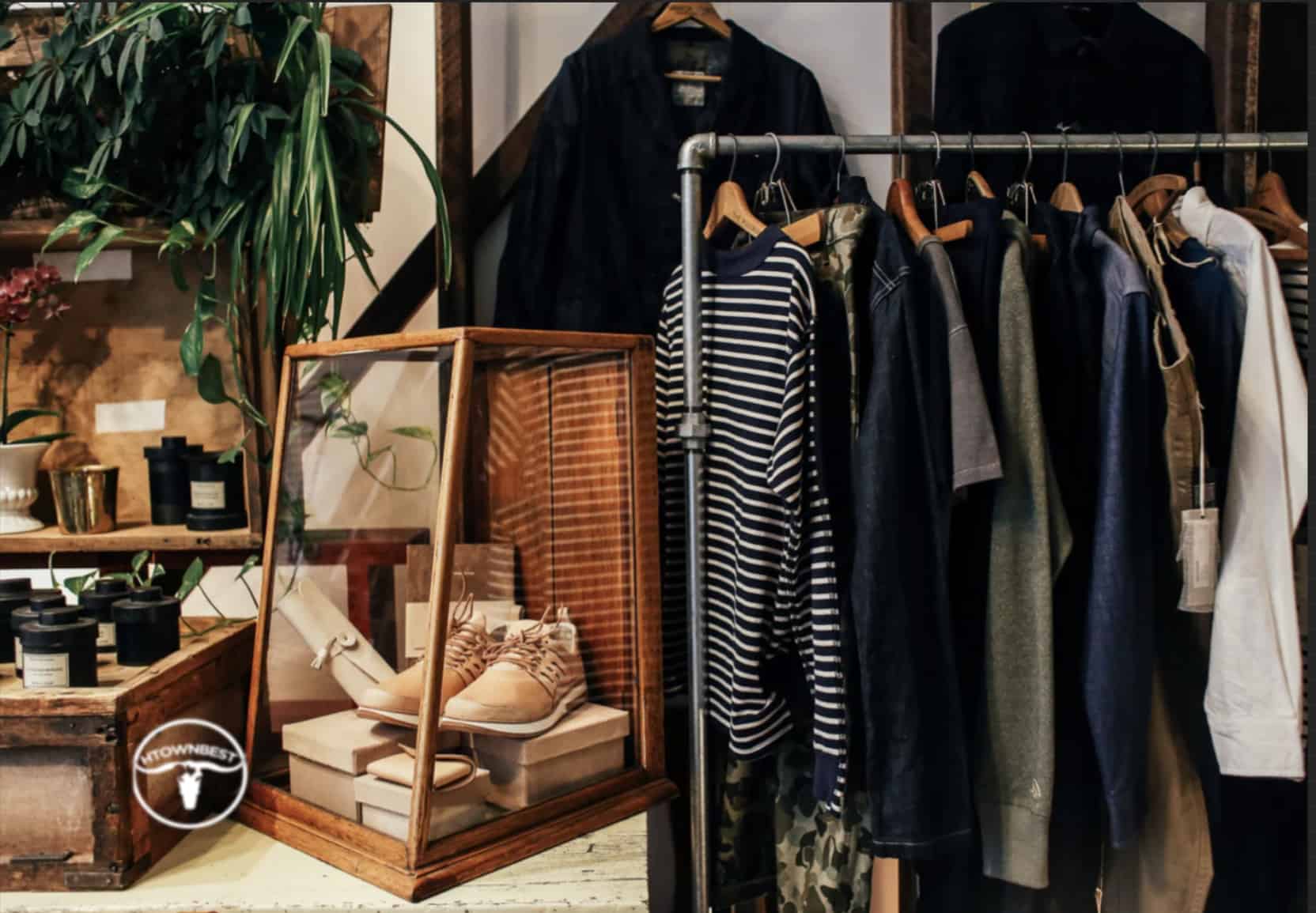 The 5 Best Online Clothing Boutiques
Our Criteria 
1. Boss Lady Couture Boutique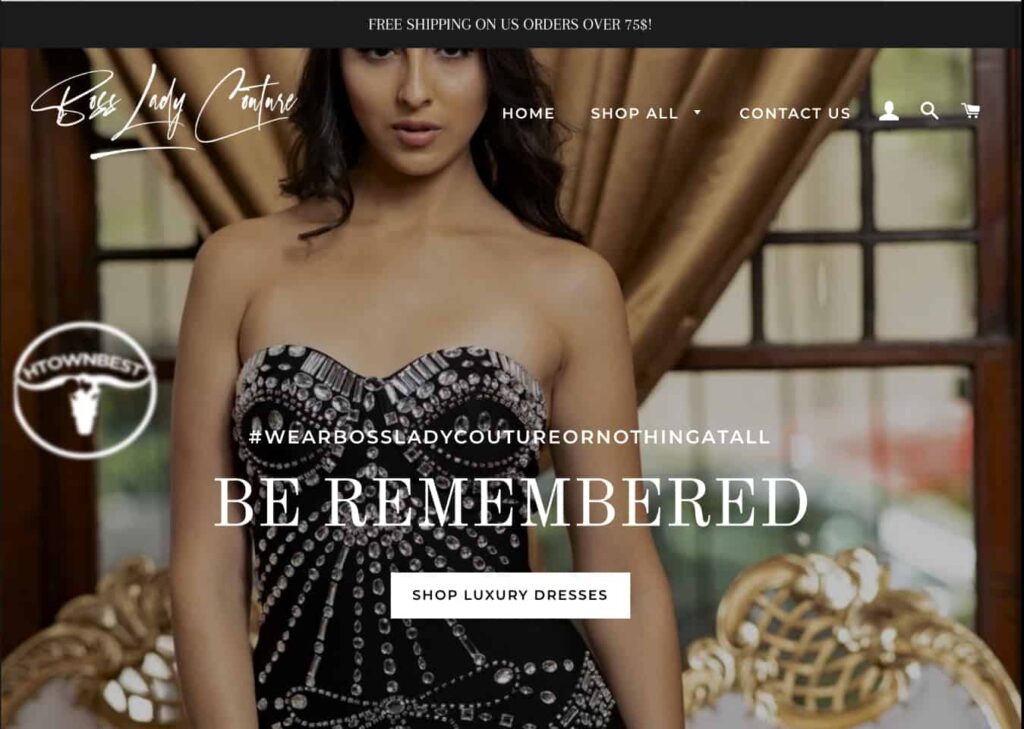 Services: Boss Lady Professionals, Dresses, Pants, Tops, Intimates, Swimsuits, Bodysuits, Jumpsuits, Two Piece Suits, Shoes, Accessories, Hair Extensions, Lashes, Frontals & Closures, Wigs, Wig Accessories, and Fajas
Website:https://bossladycouture.com/
Address:2604 Whitney St, Houston, TX 77006, United States
Contact Details: +1 832-623-6702
Operating Hours: Tuesday to Friday: 12:00 noon to 6:00 PM
Saturday: 1:00 PM to 7:00 PM
Monday to Sunday: Closed
| | |
| --- | --- |
| Google Reviews Score | 4.9/5 |
| Yelp Reviews Score | 4.5/5 |
| Facebook Reviews Score | 5/5 |
| Total Reviews | 4.7/5 |
| Score Consistency | 4.8/5 |
| | |
| --- | --- |
| Website | 4.8/5 |
| Easy Checkout | 4.7/5 |
| Shipping | 4.7/5 |
| Customer Service | 4.8/5 |
One-of-a-kind business suits
Body-slimming quality fabric
No public product description
No clothing size measurements
No refunds
Almost everyone we talked to raved about the variety Boss Lady Couture offers their customers. With everything from lashes and hair extensions to shoes, bodysuits, and more—there is something to find for all shoppers at Boss Lady Couture.
At first glance, their website is easy on the eyes and easy to navigate. The side panel makes it clear to find all the products they advertise.
However, most of the pictures of their products are not consistent, switching from either a model to just being on a mannequin. Additionally, there's little to no product description.
Therefore, it's difficult to tell online if the clothes will fit because there's a lack of a sizing chart and size measurements of the clothes.
On the other hand, we liked the professional business suits, and blazers Boss Lady Couture sells for the colors and designs are one-of-a-kind. The size range offered starts from small to extra-large.
We ended up ordering a few bodysuits and jumpsuits from Boss Lady Couture. When our clothing items arrived, we were pleased with the fabric quality and materials, as they were made specifically for body-slimming construction.
Fortunately, we were satisfied with our products because there are no refunds for all sales or final. That's not ideal, though – we'd always prefer for shops to have refund or return policies.
2. Melodrama Boutique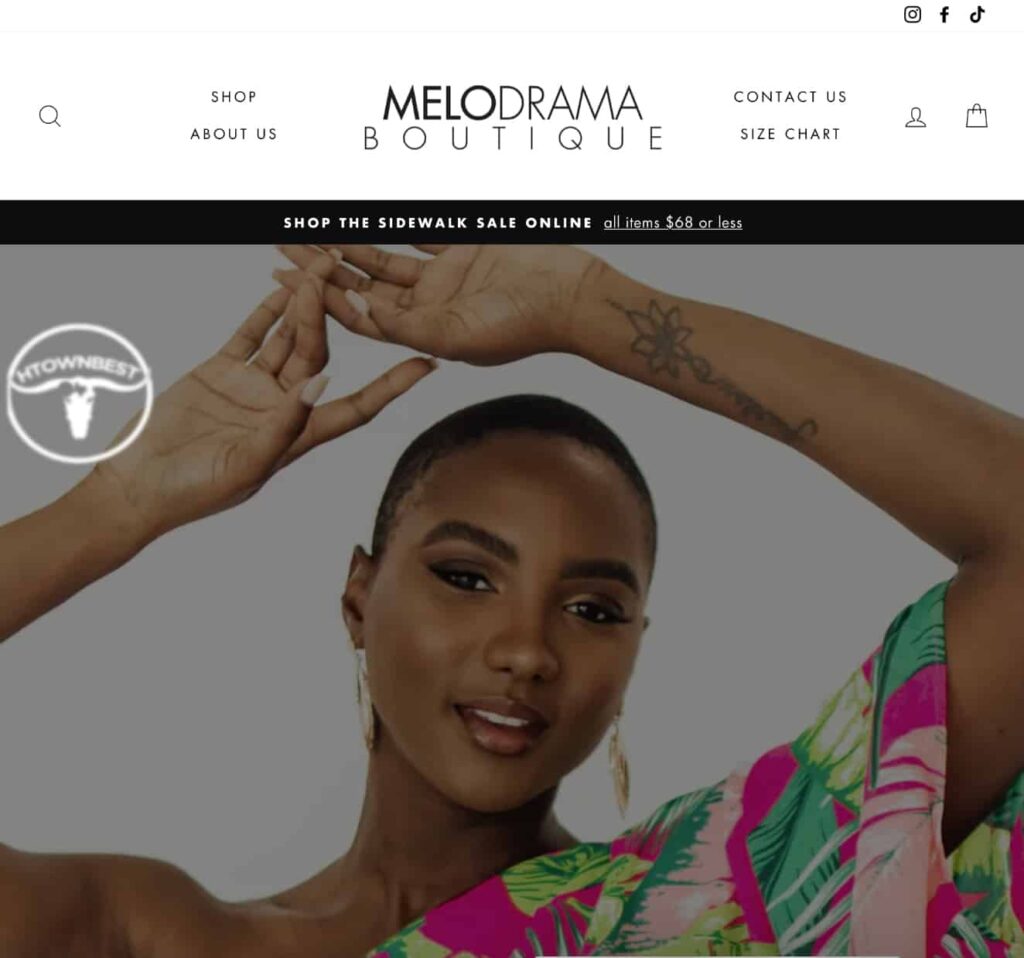 Services: Dresses, Blouses, Trousers and Skirts, Jumpsuits, Two-piece Suits, Meloplus, Shoes, Jackets,
Website:https://www.melodramaboutique.com/
Address: 5306 Almeda Rd, Houston, TX 77004, United States
Contact Details: +1 713-523-1608
Operating Hours: Wednesday to Saturday: 12:00 noon to 6:00 PM
Monday,Tuesday and Sunday: Closed
| | |
| --- | --- |
| Google Reviews Score | 4.8/5 |
| Yelp Reviews Score | 5/5 |
| Total Reviews | 4.9/5 |
| Score Consistency | 4.9/5 |
| | |
| --- | --- |
| Website | 5/5 |
| Easy Checkout | 5/5 |
| Shipping | 5/5 |
| Customer Service | 5/5 |
Plus size clothing available
Fashionably chic clothing
Funky abstract patterns
Melodrama Boutique was founded by Jackie Adams, who is known amongst people for bringing slavish, stylish finds to women in the Houston community. Melodrama Boutique also claims to always hold one-of-a-kind unique pieces in their store.
One of the first things we noticed was how mobile-friendly their website was. The layout was pleasing to the eyes and made it easy to find everything we were looking for.
Although the descriptions of their clothing items are limited to a few words, the pictures make their clothing items stand out.
True to the claims, they sell various fashionably chic blouses and oversized sweaters with funky unusual popping prints. The jumpsuits sold on their website come in basic colors and abstract, one-of-a-kind prints.
Perhaps one of our favorite things about Melodrama Boutique is that they provide a section full of hand-picked clothing for those who wear plus sizes. The clothing choices were filled with beautiful chic prints any woman could pass off wearing and feel comfortable in.
The checkout process was fairly simple. (Yes, they offer Shop Pay, Apple Pay, and Paypal.)
While shipping is available, they also offer in-store pickup. We also noted that unworn clothing items could be exchanged within seven days for store credit or another item. But no returns again!
3. Saint Lo Boutique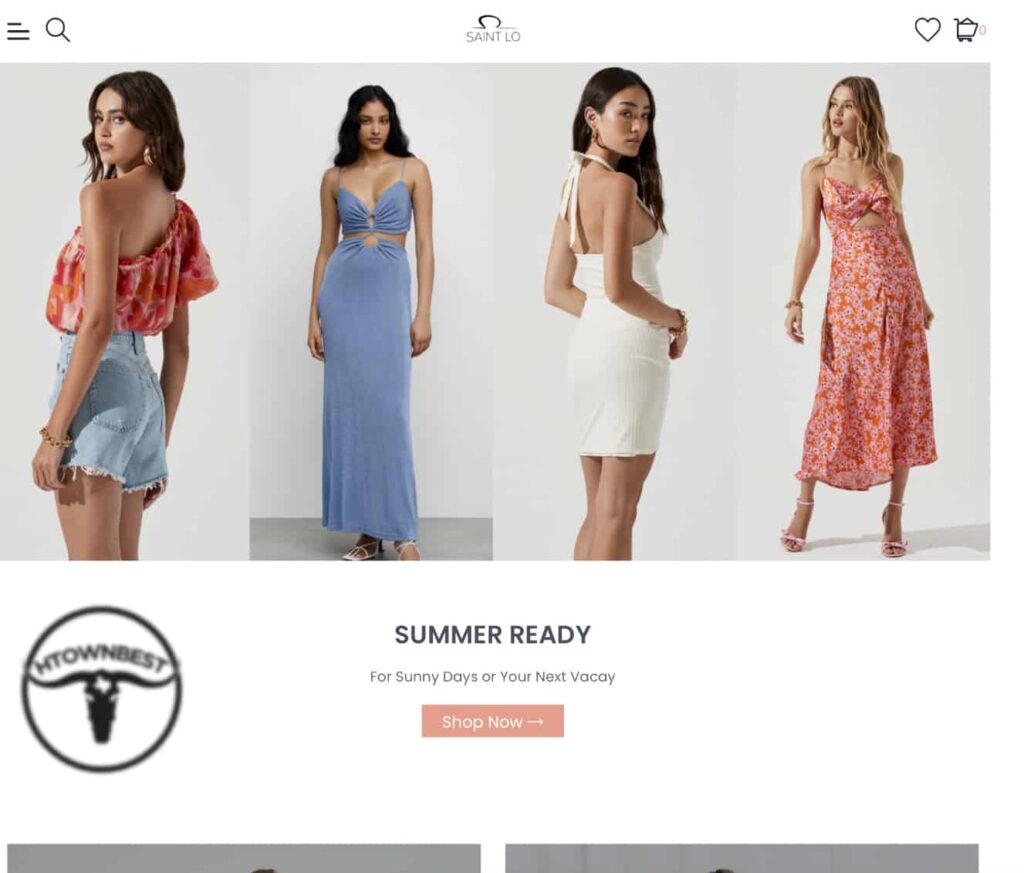 Services: Tops, Pants, Dresses, Jumpsuits, Rompers, & Swimwear
Website:https://www.saintloboutique.com/
Address: 642 Yale St suite b, Houston, TX 77007, United States
Contact Details: +1 832-968-4050
Operating Hours: Monday to Saturday: 10:00 AM to 6:00 PM
Sunday: 12:00 noon to 5:00 PM
| | |
| --- | --- |
| Google Reviews Score | 4.9/5 |
| Yelp Reviews Score | 4.5/5 |
| Facebook Reviews Score | 5/5 |
| Total Reviews | 4.9/5 |
| Score Consistency | 4.9/5 |
| | |
| --- | --- |
| Website | 3/5 |
| Easy Checkout | 2/5 |
| Shipping | 2/5 |
| Customer Service | 4/5 |
Carefully-curated products
Not budget-friendly
Website needs maintenance
No shoes, accessories, or sale items 
Saint Lo Boutique claims to add something different to the fashion scene. Saint Lo is widely known by the locals we spoke to as the "go-to" shop for all things exclusive and up-to-date in the fashion scene.
Because each piece is carefully-curated from labels worldwide, only a select few of their items are available.
As we checked out their website, we noticed that many of their dresses and pieces sold are for over $100 or more. So this is not a budget-friendly online clothing boutique.
The descriptions of the products on their website match the pictures of their items. They also list the type of fabric for their clothing items, such as silk or polyester.
We did note, though, that some sections on the website were completely blank. This may be due to their website being under construction.
Additionally, Saint Lo Boutique does not sell shoes, accessories, or a sale section on its website.
Furthermore, it was inconvenient not to be able to order from their online website. Since any orders placed would not be honored and shipped out.
So, we contacted their customer support and inquired about how we could place an order. Thankfully, customer support assisted us in placing an order over the phone.
4. Enstyle Boutique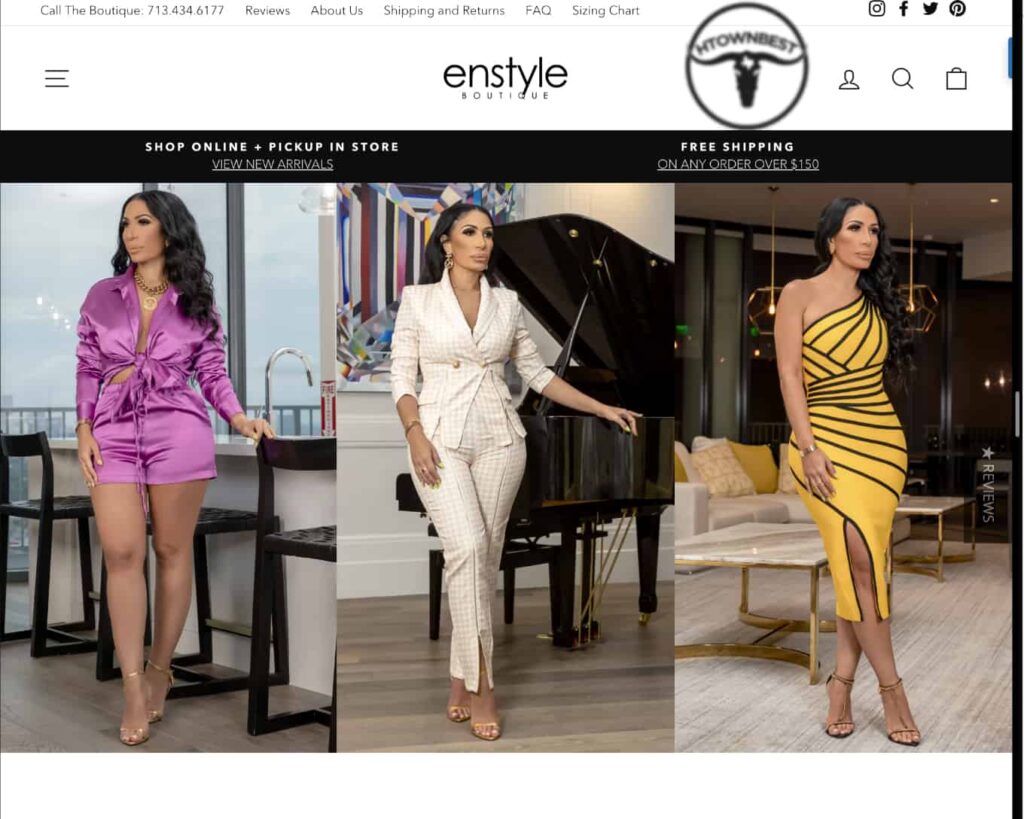 Services: Dresses, Sets, Jumpsuits/Rompers, Tops, Bottoms
Website:https://enstyletheboutique.com/
Address:5901 Westheimer Rd #F, Houston, TX 77057, United States
Contact Details:  +1 713-434-6177
Operating Hours: Wednesday to Saturday: 12:00 Noon to 6:00 PM
Sunday,Monday,Tuesday: Closed
| | |
| --- | --- |
| Google Reviews Score | 4.7/5 |
| Yelp Reviews Score | 4/5 |
| Facebook Reviews Score | 5/5 |
| Total Reviews | 4.7/5 |
| Score Consistency | 4.7/5 |
| | |
| --- | --- |
| Website | 4/8/5 |
| Easy Checkout | 4.7/5 |
| Shipping | 4.7/5 |
| Customer Service | 4.8/5 |
In-store pickup is available
Sizing chart on website
10% discount for first timers
Comfortable and versatile fabric
Only sizes S-L
No tracking info for shipping
No exchanges
The Enstyle boutique website was easy to navigate and offered a 10% discount code to all first-time customers.
While they offer various jumpsuits and dresses, they do not sell any shoes or accessories. Our favorite part of their website was the sale section because of the wide selection of quality clothing pieces at extremely discounted prices.
The sizes offered are also limited to small, medium, and large. But we appreciated that they have a sizing chart, so there was no confusion about which size to get.
We ordered a few dresses off their website and opted for in-store pick-up instead of shipping. Their shipping starts at a flat rate of 8.99, yet there's no tracking information guarantee.
When the dresses we ordered arrived, we were able to try them in the store. The dresses were flattering, and the fabric was comfortable and versatile.
Sadly though, one of the dresses we ordered was a little too small around the bust area, so we hoped to exchange it for a bigger size.
Unfortunately, the in-store customer service representatives informed us that they do not offer exchanges since their inventory always sells out.
Still, we were able to return the dress for store credit only. Not ideal – but still better than having no returns at all.
5.Beehive Houston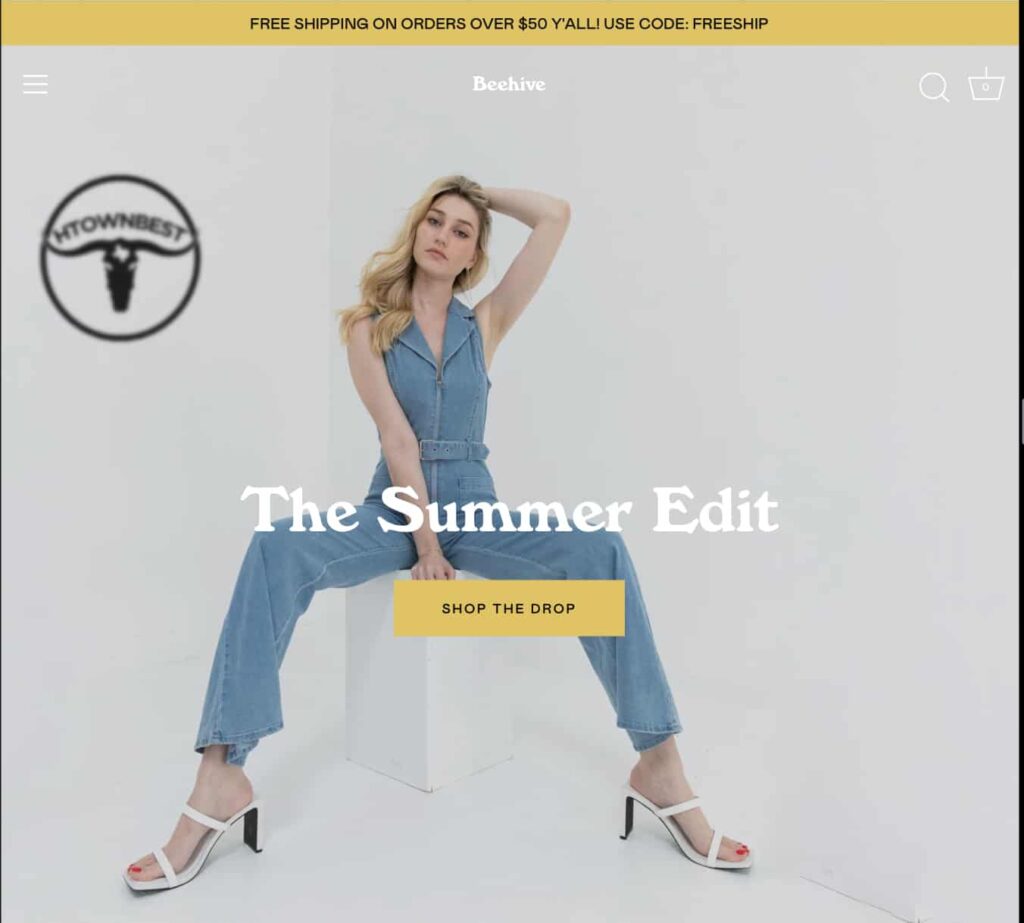 Services: Dresses, Tops, Bottoms, Denim, Shoes, Sets, Swim, Outerwear, Rompers & Jumpsuits, Accessories, Home & Apothecary
Website:https://www.lovebeehive.com/
Address: 2519 University Blvd, Houston, TX 77005, United States
Contact Details: +1 713-522-0557
Operating Hours: Tuesday to Saturday: 10:00 AM to 6:00 PM
Sunday to Monday: Closed
| | |
| --- | --- |
| Google Reviews Score | 4.7/5 |
| Facebook Reviews Score | 5/5 |
| Total Reviews | 4.8/5 |
| Score Consistency | 4.8/5 |
| | |
| --- | --- |
| Website | 5/5 |
| Easy Checkout | 5/5 |
| Shipping | 5/5 |
| Customer Service | 4.8/5 |
Aesthetically pleasing website
Discounted codes are available 
Variety of payment options
Limited sizing options
Itchy fabrics
Beehive Boutique claims that their clothes leave their customers inspired to live life on the bright side. Their bright yellow color website design reflected their goal to live on the brighter sight.
Furthermore, the beehive website was aesthetically pleasing to the eye and mobile-friendly. Also, the front page automatically showed us a free shipping code and a discount code available to all customers.
Additionally, all the pictures they use on their website are professionally taken. It is clear to see they use more professional models and layouts, contributing to the overall website look.
Moreover, we also liked how they offer various products such as shoes, denim, swimwear, accessories, etc. Unfortunately, though, they did not have a sale section.
The core of their products gave off happy, confident vibes and confidence with a wide selection of fun statement pieces, spot-on denim, fresh prints, and essential house accessories with an added twist. All their products have an easy-to-read description that didn't leave us clueless about what we were purchasing.
We also liked the little tips about washing the items sold on their website.By the way, we noted that they only have sizes small to large available in all their clothing.
The smooth checkout process allowed us to buy it now or add it directly to the cart. We also like how they offer Shop Pay, Amazon Pay, Apple Pay, and PayPal at checkout, creating a more efficient checkout experience.
We purchased a couple of dresses and shoes. Everything arrived within the estimated shipping time.
As for the quality of the products we received, the dress straps were adjustable as the product description claimed. The quality of the fabric was not see-through either, but it was a little itchy.
FAQs